Anna Kendrick on Auditioning for 'Pitch Perfect'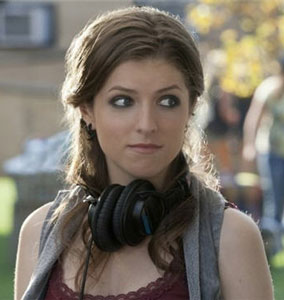 Anna Kendrick started out in the world of musical theater, so it made sense for the Oscar-nominated actress to return to her roots in Pitch Perfect.
"I wasn't looking for this, and in fact I remember reading the script and the thing that made me nervous was the musical aspect," Kendrick told Movieline.  "It was almost like I wish Kay Cannon could rewrite the script replacing the a cappella with a chess club because I was worried about it being corny.  But I fell in love with the script so much because it was so smart and funny and surprising.  I was so charmed by it, I was like, ''Okay—guess I'm singing in a movie!"
This isn't the first time Kendrick has shown off her vocal chops onscreen.  The actress made her film debut singing in the cult favorite movie, Camp.  But she still had to audition for director Jason Moore.  Kendrick recalled, "I met Jason like two years ago about it and they did ask me to sing, so I sang that song with the cups [from the film] that I learned from a YouTube video, and they were like, 'Oh my god, that's going in the movie!'"
Kendrick decided to audition with the piece since "I had just learned it because I'm aggressively dorky," she said.  "When they asked me to sing I was like, as it happened, here's something I wasted an afternoon learning, so I might as well show them."
After her Oscar nomination for Up in the Air, Kendrick was worried about typecasting.  "I think right after Up in the Air everyone wanted me to play the girl from Up in the Air, and it took a little while for people to think of me as an actress from a film that they liked instead of just that character," she noted.  "So it was weird, a little bit of time had to pass before people like [End of Watch director] David Ayer began thinking of me as the kind of softer, sexier wife character or in this, a kind of rebellious tattooed character.  So I'm definitely grateful that those opportunities are coming along."
Pitch Perfect opens in wide release Friday.
Latest Videos
http://www.dailyactor.com/wp-content/uploads/2014/07/bill-hader.jpg
Bill Hader: "I kind of fell into acting" (video)
Bill Hader, starring in the soon to be released The Skeleton Twins, talks about the film and how he fell into acting and then got "crazy lucky" in this quick video from USA Today. Share on Tumblr
http://www.dailyactor.com/2014/07/bill-hader-fell-into-acting-video/
http://www.dailyactor.com/wp-content/uploads/2014/07/director-john-carney-narrates-a.jpg
Director John Carney Narrates a Scene from 'Begin Again' Starring Kiera Knightley and Mark Ruffalo
Director John Carney (Once) narrates a scene from his new film, Begin Again. Starring Keira Knightley and Mark Ruffalo, the scene shows the first time the two characters meet. I haven't seen it yet but I've heard it's great.
http://www.dailyactor.com/2014/07/begin-again-scene-director-john-carney-keira-knightley-mark-ruffalo/
http://www.dailyactor.com/wp-content/uploads/2014/07/holler-if-you-hear-me-gma.jpg
Watch the Cast of Broadway's 'Holler If You Hear Me' Perform 'California Love' on GMA
The cast of Broadway's newest musical, Holler If You Hear Me with music from Tupac Shakur, performed on Good Morning America this morning. Singing 'California Love', the cast (including the teriffic Christopher Jackson – read our interview here), show why they're the most energetic and inspiring group of actors on Broadway. Holler If Ya Hear [...]
http://www.dailyactor.com/2014/07/watch-cast-broadways-holler-hear-perform-california-love-gma/
http://www.dailyactor.com/wp-content/uploads/2014/07/behind-the-scenes-of-dawn-of-the.jpg
Behind the Scenes of 'Dawn of the Planet of the Apes' with Performance Capture Actor Terry Notary
Actor Terry Notary is 1 of 5 actors playing the apes in the new Dawn of the Planet of the Apes. "When you see armies of apes," he says, that's "five of us." Check out the video where you can watch his performance capture work.
http://www.dailyactor.com/2014/07/dawn-planet-apes-performance-capture-actor-terry-notary/
http://www.dailyactor.com/wp-content/uploads/2014/07/melissa-mccarthy-daily-show.jpg
Melissa McCarthy and John Stewart Talk About Terrible Commercial Auditions on 'The Daily Show'
Melissa McCarthy stopped by The Daily Show last week to plug about her new movie, Tammy. She talked about how she loved working with her husband, Ben Falcone (director of Tammy) and then segued into talking about some horrible working situations. The always hilarious McCarthy then started to tell host John Stewart about a particular [...]
http://www.dailyactor.com/2014/07/melissa-mccarthy-john-stewart-commercial-auditions-the-daily-show/