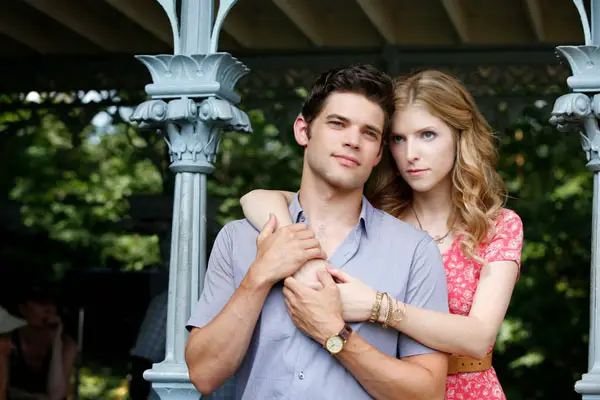 Any musical theater geek can tell you that Jason Robert Brown's The Last Five Years is a masterpiece. And if you've never heard anyone say that, well, I'm here to be the first.
It's a freakin' masterpiece!
I've listened to the Original Cast recording so many times that almost I'm surprised my neighbors haven't beaten me to death in the lobby of our building.
Based on the musical of the same name, The Last Five Years is exactly what a fan of the show could ever want.
The story, told almost all in songs, is about the five-year love affair and eventual disintegration of a relationship. Cathy (Anna Kendrick) is a struggling actress who falls in love with Jamie (Jeremy Jordan), an up and coming novelist.
The twist is that Cathy's story and songs begin at the end of the relationship and move backwards in time while Jamie's start at the beginning and move forward. Eventually the two stories meet in the middle when Jamie proposes.
Honestly, if this were a traditional film told in the a normal narrative without songs, it would be nothing special. But with the addition of composer/writer Brown's brilliant songs and storytelling, it changes the way you view and hear the story. His lyrics are so deep, catchy and moving that even those without a soul would be moved.
At the start of the film, Jamie is why the marriage breaks up. By the end, it could be Cathy's fault. That's the beauty of this structure, we're told both sides. Everyone has a version of a breakup and here we're treated to both sides.
Directed deftly by Richard LaGravenese, the story flows seamlessly and you never question the time shifts.
The original cast starred Norbert Leo Brown and Sheri Rene Scott and I went into the film thinking that nothing could replace them. In my mind, they were my Cathy and Jamie. But after the first couple songs, Kendrick and Jordan proved me wrong, making each lyric and note their own, Jordan especially. He's got a voice that'll make any musical theater actor jealous. Kendrick is, I think, almost single-handily, bringing back the movie musical. While she doesn't match Scott for power, her acting more than makes up for it. We live through the story through her face and it's at times funny and at times so incredibly heartbreaking.
Now, if you'll excuse me, I'm going to watch this again. And so can you at your local theater or streaming on Amazon.