Stop Asking Paul Rudd Why He's Doing Theater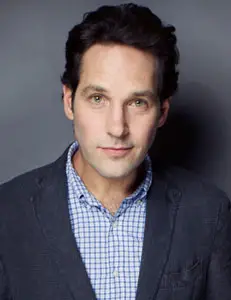 Paul Rudd is best known for his comedic roles in films like Our Idiot Brother, I Love You, Man, and Knocked Up.  But his next part is a huge departure—he'll be appearing in a Broadway production of the dramatic play, Grace.
"I was kind of antsy," the actor told Yahoo! News.  "I was, I think, kind of finally hitting a place where I thought, 'I just want to try something a little different.'  And not just with the genre but even the medium.  I've always tried to do things that were meaningful in some ways to me that hopefully wouldn't suck.  I haven't always avoided that but, for the most part, I try to do things on my own terms as much as possible."
In Grace, Rudd will portray an evangelical Christian who undergoes a crisis of faith.  "I was drawn to the character because it's a different character for me and certainly different than anything I've played in the last several years," he said.  "I thought it was bold and fresh and something I hadn't seen before."
While Rudd has appeared in other theater productions, like Twelfth Night and The Shape of Things, people are still surprised to learn he's returning to the stage.  Rudd noted, "Two people today have asked me that same question.  'Why come back?'  'Why are you back?'  As if theater is something you do until you're able to get a job in movies and television.  I've never felt that.  I mean, I live in this city and the reason I moved here 17 years ago was to do plays."
In fact, Rudd is glad to be back in the theater world.  "One of the things I love about doing plays in New York is to feel a part of the city and part of a community that's really vital and tight-knit," he said.  "I wanted to be back in that.  I wanted to go get a drink after the show and run into the cast of The Book of Mormon.  And just see other people who do shows and say, 'Hey, how was your show tonight?'  There's a feeling that I think is very grounding and makes me feel sane and included and it's fun."
But not all of theater is fun.  Regarding his role in The Long Day's Journey into Night in London back in 2000, Rudd recalled, "While I was very happy that I did it, and it was an enriching, profound experience, 'fun' is not a word I would use to describe it.  I was just bummed out all the time.  This play is an hour-and-a-half and it's a thrill ride.  So hopefully I won't be a wreck walking around when we're not doing the show."
Grace is set to open on October 4.
Latest Videos
http://www.dailyactor.com/wp-content/uploads/2014/08/bryan-cranston-emmy-award-speech.jpg
Watch: Bryan Cranston's Emmy Award Speech: "I love to act. It is a passion of mine and I will do it until my last breath."
The Emmy Awards weren't the most exciting awards show this year but with Bryan Cranston winning for Outstanding Actor in a Drama for Breaking Bad, we at least got to hear one heck of a fantastic acceptance speech. "I was a kid who always looked for the shortcut," he said. "I did happen to stumble […]
http://www.dailyactor.com/2014/08/watch-bryan-cranston-and-aaron-pauls-emmy-award-speeches/
http://www.dailyactor.com/wp-content/uploads/2014/08/audition-tapes-gerard-butler-aud.jpg
Audition Tapes: Gerard Butler Auditions for 'Dracula 2000′
Check out Gerard Butler auditioning for the role of Dracula in the movie, Dracula 2000. The film, about a group of thieves who break into a chamber expecting to find paintings, but instead find Dracula himself, also starred Christopher Plummer, Jonny Lee Miller and Nathan Fillion. Bulter has some sweet rock star hair, huh?
http://www.dailyactor.com/2014/08/audition-tapes-gerard-butler-dracula-2000/
http://www.dailyactor.com/wp-content/uploads/2014/08/interview-matt-dillon-and-carla.jpg
Interview: Matt Dillon and Carla Gugino Talk 'Wayward Pines'
FOX has a new limited-series that's got a terrific cast and interesting premise. It's called Wayward Pines and stars Matt Dillon, Carla Gugino, Melissa Leo, Toby Jones, Terrance Howard, Juliette Lewis, Tim Griffin and Shannyn Sossamon. The show, whose pilot was directed by M. Night Shyamalan, is about a Secret Service agent (Dillon) goes to […]
http://www.dailyactor.com/2014/08/interview-matt-dillon-carla-gugino-wayward-pines-comic-con/
http://www.dailyactor.com/wp-content/uploads/2014/08/interview-wayward-pines-stars-ti.jpg
Interview: 'Wayward Pines' Stars Tim Griffin and Shannyn Sossamon on the Show, Their Characters and More!
Griffin and Sossamonwere at Comic-Con where they sat in on some roundtable interviews to talk about the show.
http://www.dailyactor.com/2014/08/interview-wayward-pines-stars-tim-griffin-shannyn-sossamon-comic-con/
http://www.dailyactor.com/wp-content/uploads/2014/08/interview-m-night-shyamalan-talk.jpg
Interview: M. Night Shyamalan Talks 'Wayward Pines' and Why He Expanded a Young Actors Role on the Show
I talked to Shyamalan at Comic-Con in a roundtable interview where he talked about the cast, what he learned from working in TV and how young actor Charlie Tahan started out with a small part but as the story grew, so did his role.
http://www.dailyactor.com/2014/08/interview-m-night-shyamalan-wayward-pines-comic-con/