Stop Asking Paul Rudd Why He's Doing Theater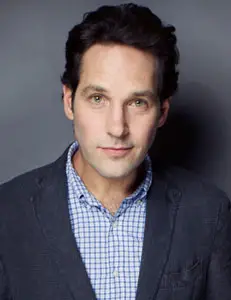 Paul Rudd is best known for his comedic roles in films like Our Idiot Brother, I Love You, Man, and Knocked Up.  But his next part is a huge departure—he'll be appearing in a Broadway production of the dramatic play, Grace.
"I was kind of antsy," the actor told Yahoo! News.  "I was, I think, kind of finally hitting a place where I thought, 'I just want to try something a little different.'  And not just with the genre but even the medium.  I've always tried to do things that were meaningful in some ways to me that hopefully wouldn't suck.  I haven't always avoided that but, for the most part, I try to do things on my own terms as much as possible."
In Grace, Rudd will portray an evangelical Christian who undergoes a crisis of faith.  "I was drawn to the character because it's a different character for me and certainly different than anything I've played in the last several years," he said.  "I thought it was bold and fresh and something I hadn't seen before."
While Rudd has appeared in other theater productions, like Twelfth Night and The Shape of Things, people are still surprised to learn he's returning to the stage.  Rudd noted, "Two people today have asked me that same question.  'Why come back?'  'Why are you back?'  As if theater is something you do until you're able to get a job in movies and television.  I've never felt that.  I mean, I live in this city and the reason I moved here 17 years ago was to do plays."
In fact, Rudd is glad to be back in the theater world.  "One of the things I love about doing plays in New York is to feel a part of the city and part of a community that's really vital and tight-knit," he said.  "I wanted to be back in that.  I wanted to go get a drink after the show and run into the cast of The Book of Mormon.  And just see other people who do shows and say, 'Hey, how was your show tonight?'  There's a feeling that I think is very grounding and makes me feel sane and included and it's fun."
But not all of theater is fun.  Regarding his role in The Long Day's Journey into Night in London back in 2000, Rudd recalled, "While I was very happy that I did it, and it was an enriching, profound experience, 'fun' is not a word I would use to describe it.  I was just bummed out all the time.  This play is an hour-and-a-half and it's a thrill ride.  So hopefully I won't be a wreck walking around when we're not doing the show."
Grace is set to open on October 4.
http://www.dailyactor.com/wp-content/uploads/2016/08/John-Krasinski-The-Hollars.jpg
John Krasinski on his "Lottery-Ticket Life": "What I try to do instead is try to deserve to stay here"
"It's so unbelievably rare to get the opportunity that I did to be on The Office, so what I try to do instead is try to deserve to stay here" - John Krasinski
http://www.dailyactor.com/film/john-krasinski-ottery-ticket-life/
http://www.dailyactor.com/wp-content/uploads/2016/08/john-turturro-the-night-of.jpg
John Turturro on 'The Night Of', Almost Quitting Acting and Why He Doesn't Chase Awards
"Why do I have to pay a publicist? I'd rather save my money so I can go do an Off Broadway play.'" - John Turturro
http://www.dailyactor.com/tv/john-turturro-the-night-of-quitting-actingawards/
http://www.dailyactor.com/wp-content/uploads/2016/08/imperium_daniele_radcliffe.jpg
Daniel Radcliffe on Playing a Neo-Nazi in 'Imperium': "It's still just horrible to say some of this stuff"
Radcliffe reveals how he played such a layered character and what it felt like to say his character's hate-filled dialogue.
http://www.dailyactor.com/film/daniel-radcliffe-playing-a-neo-nazi-imperium/
http://www.dailyactor.com/wp-content/uploads/2016/08/John-Cho-Star-Trek-Beyond.jpg
How John Cho Took A Stand for Diversity Early in His Career
"When one does speak one's mind, one might be surprised at how receptive people are." - Actor John Cho
http://www.dailyactor.com/film/john-cho-took-a-stand-for-diversity/
http://www.dailyactor.com/wp-content/uploads/2016/08/simon-helberg-florence-foster-jenkins.jpg
Simon Helberg on His 'Florence Foster Jenkins' Role: "I'm an actor and I want to stretch different muscles"
Helberg spoke about portraying his character in the film and whether or not he feels typecast by his Big Bang Theory role.
http://www.dailyactor.com/film/simon-helberg-florence-foster-jenkins-role/