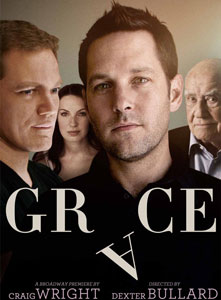 The stars of Grace, Paul Rudd, Michael Shannon, Ed Asner and Kate Arrington, a new Broadway show written by Craig Wright, talk about the production at a recent press event in New York City.
Grace is about a couple (Rudd and Arrington) with big plans to open a chain of Gospel-themed motels. When an agitated rocket scientist (Shannon) and a prickly pest-control man (Asner) enter the picture, the couple's world is thrown into utter chaos.
I read the play and can't wait to see the show with these actors in it. It's at times funny and sad and I think the casting is perfect. Click here to buy the play.
The show began performances last week at the Cort Theatre. For more info: Grace on Broadway