New Fall Shows Reviewed: 'The Mob Doctor', 'Revolution'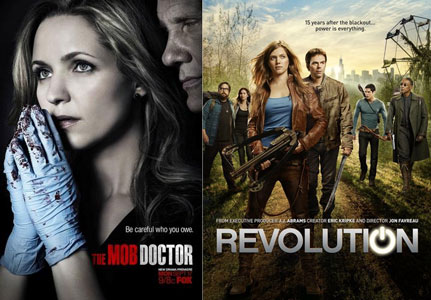 The Mob Doctor—Skip it (unless…)
You really enjoy shows that feature predictably strange medical diagnoses and a quirky, yet plucky female doctor who for some reason is way more intelligent than any other doctor on staff.
Even the show's title is a throwaway—they couldn't find anything more creative than simply stating what the show's premise is?  So, you can probably guess that this FOX series is about a doctor who becomes involved with the mob, and must make crucial life or death decisions while still maintaining her moral code.
The show's writing is dry and sometimes a tad ridiculous.  (Yes, the pilot included a doctor trying to explain 'outercourse' to a teenager.  Ick.)
But the series' most upsetting crime is the fact that they cast such great actors who truly deserve better material.  Lead actress Jordana Spiro (who shone so brightly on TBS' comedy My Boys), Friday Night Lights alum Zach Gilford, and recent Boardwalk Empire scene-stealer William Forsythe are each wasted in their respective roles.
You should tune in only if you're going through serious House withdrawals and you need to hear an actor spew out medical terms without the slightest hint of understanding what they're saying.
Revolution—Skip It (unless…)
You love cheesy fight sequences and underlying mythology shows.  We love J.J. Abrams, but even the master of television shows like Lost and Alias can make a mistake every now and then.
The premise of the show is that power has gone out all over the world, leading to militia uprisings and people going back to Pilgrim days.  It's sort of interesting to think about how far south the world would go without technology, but the show wants to focus more on a pretty orphan girl who is on the quest-of-a-lifetime to save her brother and the peculiar pals she picks up along the way (Wizard of Oz, this is not.)
The acting is extremely tired and predictable, complete with the mandatory deathbed scene where the character is shot, but still able to deliver necessary last minute instructions before keeling over.  The worst casting crime is providing the brilliant Giancarlo Esposito (last seen as the scarily perfect Gus Fring on Breaking Bad) with some of the worst lines of the show.   This actor deserves something much better, leading us to hope he gets killed off so he can move on to another project.
It's hard for us to believe that Abrams would make such a horrible pilot, so it's worth checking out additional episodes, but it's difficult to fathom this show could improve much. 
http://www.dailyactor.com/wp-content/uploads/2015/02/Larry-David.jpg
Larry David on Who he Wanted to Star in his Broadway Play 'Fish in the Dark': "Anybody but me"
"It's one of the reasons I didn't like acting. I don't like not being able to interject" – Larry David on acting with a script Who doesn't like Larry David? Well, to be honest, Larry David probably doesn't like Larry David. In fact, David didn't even want to cast himself in the lead of […]
http://www.dailyactor.com/2015/02/larry-david-on-who-he-wanted-to-star-broadway-play-fish-in-the-dark/
http://www.dailyactor.com/wp-content/uploads/2015/02/Helen-Mirren-The-Queen.jpg
Helen Mirren on Winning an Oscar: "It's an indescribable moment"
"It's hard to say, because you don't know what would have happened if you hadn't won" - Helen Mirren When Asked If Winning an Oscar Changed Her Career
http://www.dailyactor.com/2015/02/helen-mirren-on-winning-an-oscar/
http://www.dailyactor.com/wp-content/uploads/2015/02/anna-chlumsky-james-earl-jones.jpg
Anna Chlumsky on Her Broadway Debut: "For me, it was an opportunity to go in the direction that I hadn't played in a while"
"I think my personality lends itself to ensembles" - Anna Chlumsky
http://www.dailyactor.com/2015/02/anna-chlumsky-broadway-debut-ensemble/
http://www.dailyactor.com/wp-content/uploads/2015/02/joanne-froggatt-downton-abbey.jpg
'Downton Abbey' Star Joanne Froggatt on Creating Her Own Backstory and How She's "Not a Big-Budget Hollywood Type"
"They want the model type, classically beautiful, and I'm not" - Joanne Froggatt on Working in Hollywood
http://www.dailyactor.com/2015/02/downton-abbey-star-joanne-froggatt-character-backstory-hollywood/
http://www.dailyactor.com/wp-content/uploads/2015/01/al-pacino-the-humbling.jpg
Al Pacino on Acting: "It becomes such a part of your nature you rarely ever think about quitting"
After working infrequently in film over the last decade, Al Pacino appears in several films released in 2015, including The Humbling, an indie drama directed by Barry Levinson.
http://www.dailyactor.com/2015/02/al-pacino-on-acting-it-becomes-such-a-part-of-your-nature/