New Fall Shows Reviewed: 'The Mob Doctor', 'Revolution'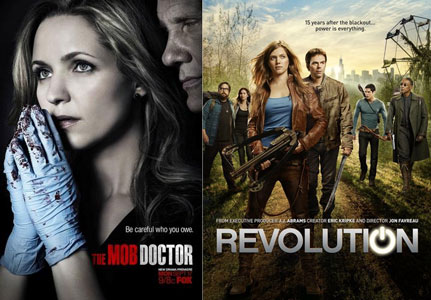 The Mob Doctor—Skip it (unless…)
You really enjoy shows that feature predictably strange medical diagnoses and a quirky, yet plucky female doctor who for some reason is way more intelligent than any other doctor on staff.
Even the show's title is a throwaway—they couldn't find anything more creative than simply stating what the show's premise is?  So, you can probably guess that this FOX series is about a doctor who becomes involved with the mob, and must make crucial life or death decisions while still maintaining her moral code.
The show's writing is dry and sometimes a tad ridiculous.  (Yes, the pilot included a doctor trying to explain 'outercourse' to a teenager.  Ick.)
But the series' most upsetting crime is the fact that they cast such great actors who truly deserve better material.  Lead actress Jordana Spiro (who shone so brightly on TBS' comedy My Boys), Friday Night Lights alum Zach Gilford, and recent Boardwalk Empire scene-stealer William Forsythe are each wasted in their respective roles.
You should tune in only if you're going through serious House withdrawals and you need to hear an actor spew out medical terms without the slightest hint of understanding what they're saying.
Revolution—Skip It (unless…)
You love cheesy fight sequences and underlying mythology shows.  We love J.J. Abrams, but even the master of television shows like Lost and Alias can make a mistake every now and then.
The premise of the show is that power has gone out all over the world, leading to militia uprisings and people going back to Pilgrim days.  It's sort of interesting to think about how far south the world would go without technology, but the show wants to focus more on a pretty orphan girl who is on the quest-of-a-lifetime to save her brother and the peculiar pals she picks up along the way (Wizard of Oz, this is not.)
The acting is extremely tired and predictable, complete with the mandatory deathbed scene where the character is shot, but still able to deliver necessary last minute instructions before keeling over.  The worst casting crime is providing the brilliant Giancarlo Esposito (last seen as the scarily perfect Gus Fring on Breaking Bad) with some of the worst lines of the show.   This actor deserves something much better, leading us to hope he gets killed off so he can move on to another project.
It's hard for us to believe that Abrams would make such a horrible pilot, so it's worth checking out additional episodes, but it's difficult to fathom this show could improve much. 
Latest Videos
http://www.dailyactor.com/wp-content/uploads/2014/10/alex-sharp-curious-incident-of-the-dog.jpg
Alex Sharp Talks About His Broadway Debut in 'The Curious Incident of the Dog in the Night-Time' (video)
Alex Sharp went from working in a call-center and renovating houses to going to Julliard. And now, he's starring in one of the most talked about shows of the season, The Curious Incident of the Dog in the Night-Time. Check out this great, inspiring video!
http://www.dailyactor.com/2014/10/alex-sharp-broadway-debut-the-curious-incident-of-the-dog-in-the-night-time-video/
http://www.dailyactor.com/wp-content/uploads/2014/10/Its-only-a-play.jpg
Watch a Scene From Terrance McNally's, 'It's Only a Play', Featuring Nathan Lane and Micah Stock
Here's a quick scene from Terrance McNally's It's Only a Play, currently on Broadway at the Schoenfeld Theater. In this scene, Nathan Lane and Micah Stock meet for the first time. The show, about the opening night of a new play, also stars Matthew Broderick, Stockard Channing, F. Murray Abraham, Rupert Grint and Megan Mullally.
http://www.dailyactor.com/2014/10/watch-a-scene-terrance-mcnally-its-only-a-play-nathan-lane-micah-stock/
http://www.dailyactor.com/wp-content/uploads/2014/10/birdman-director-alejandro-g-ina.jpg
'Birdman' Director Alejandro G. Iñárritu Narrates a Scene from the Film Featuring Michael Keaton and Edward Norton
Director Alejandro G. Iñárritu narrates a scene from Birdman or The Unexpected Virtue of Ignorance that features stars Michael Keaton and Edward Norton. The film is wonderful and if it's playing in your town, definitely check it out!
http://www.dailyactor.com/2014/10/birdman-director-alejandro-g-inarritu-michael-keaton-edward-norton/
http://www.dailyactor.com/wp-content/uploads/2014/10/the-cast-of-mad-men-on-the-final.jpg
The Cast of 'Mad Men' on the Final Season and More
Though the AMC television series Mad Men might not carry the same cultural weight that it did a few years ago (splitting your final season over two years might do that to you), the second half of the show's final season is expected to be full of powerful performances from its ensemble cast. With the […]
http://www.dailyactor.com/2014/10/cast-of-mad-men-final-season/
http://www.dailyactor.com/wp-content/uploads/2014/10/behind-the-scenes-of-a-sex-scene.jpg
Behind the Scenes of a Sex Scene with Patrick Wilson, Brooklyn Decker and Director Joe Carnahan
Director Joe Carnahan is giving viewers an inside look at what it is like to film a big screen Hollywood sex scene, as confirmed by Gawker. Carnahan released a brief video clip taken from the set of his latest film Stretch starring supermodel and actress Brooklyn Decker and Patrick Wilson. The video showcases the two […]
http://www.dailyactor.com/2014/10/behind-the-scenes-of-a-sex-scene-patrick-wilson-brooklyn-decker-director-joe-carnahan/