New Fall Shows Reviewed: 'The Mob Doctor', 'Revolution'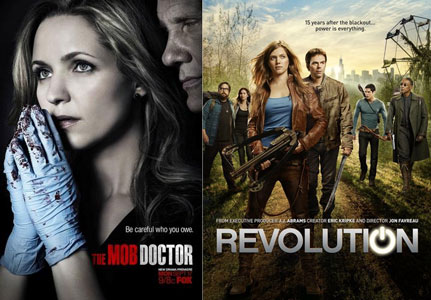 The Mob Doctor—Skip it (unless…)
You really enjoy shows that feature predictably strange medical diagnoses and a quirky, yet plucky female doctor who for some reason is way more intelligent than any other doctor on staff.
Even the show's title is a throwaway—they couldn't find anything more creative than simply stating what the show's premise is?  So, you can probably guess that this FOX series is about a doctor who becomes involved with the mob, and must make crucial life or death decisions while still maintaining her moral code.
The show's writing is dry and sometimes a tad ridiculous.  (Yes, the pilot included a doctor trying to explain 'outercourse' to a teenager.  Ick.)
But the series' most upsetting crime is the fact that they cast such great actors who truly deserve better material.  Lead actress Jordana Spiro (who shone so brightly on TBS' comedy My Boys), Friday Night Lights alum Zach Gilford, and recent Boardwalk Empire scene-stealer William Forsythe are each wasted in their respective roles.
You should tune in only if you're going through serious House withdrawals and you need to hear an actor spew out medical terms without the slightest hint of understanding what they're saying.
Revolution—Skip It (unless…)
You love cheesy fight sequences and underlying mythology shows.  We love J.J. Abrams, but even the master of television shows like Lost and Alias can make a mistake every now and then.
The premise of the show is that power has gone out all over the world, leading to militia uprisings and people going back to Pilgrim days.  It's sort of interesting to think about how far south the world would go without technology, but the show wants to focus more on a pretty orphan girl who is on the quest-of-a-lifetime to save her brother and the peculiar pals she picks up along the way (Wizard of Oz, this is not.)
The acting is extremely tired and predictable, complete with the mandatory deathbed scene where the character is shot, but still able to deliver necessary last minute instructions before keeling over.  The worst casting crime is providing the brilliant Giancarlo Esposito (last seen as the scarily perfect Gus Fring on Breaking Bad) with some of the worst lines of the show.   This actor deserves something much better, leading us to hope he gets killed off so he can move on to another project.
It's hard for us to believe that Abrams would make such a horrible pilot, so it's worth checking out additional episodes, but it's difficult to fathom this show could improve much. 
http://www.dailyactor.com/wp-content/uploads/2016/04/Christine-Baranski-The-Good-Wife.jpg
Christine Baranski on the End of 'The Good Wife' and Going Back to Theatre
The final episode of The Good Wife airs on May 8, and it's been several weeks since series star Christine Baranski shot the final episode with her co-stars. She spoke to The Hollywood Reporter about the end of the series she has spent the last seven years working on and what she plans to do […]
http://www.dailyactor.com/actors-on-acting/christine-baranski-the-good-wife-theatre/
http://www.dailyactor.com/wp-content/uploads/2016/04/jake-gyllenhaal-demolition.jpg
Jake Gyllenhaal on 'Demolition', Working with Chris Cooper and Directors Who Want Nothing to Do With Him
"I think storytelling is the most important part of movie-making over performance." - Jake Gyllenhaal
http://www.dailyactor.com/actors-on-acting/jake-gyllenhaal-demolition-chris-cooper/
http://www.dailyactor.com/wp-content/uploads/2016/04/don-cheadle-miles-davis.jpg
Don Cheadle: "Be scared. Be on the edge of your creativity"
"Be willing to fall flat on your face and be in an unknown place. If you're doing that, you're probably growing" - Don Cheadle
http://www.dailyactor.com/actors-on-acting/don-cheadle-scared-creativity/
http://www.dailyactor.com/wp-content/uploads/2016/04/jessie-eisenberg-louder-than-bombs.jpg
What is Jesse Eisenberg's "Most Fulfilling Acting Experience"?
"My absolute favorite thing to do is to write a play and then, after I finish, do the first reading of it with my friends around the table"- Jesse Eisenberg
http://www.dailyactor.com/actors-on-acting/jesse-eisenberg-most-fulfilling-acting-experience/
http://www.dailyactor.com/wp-content/uploads/2016/03/Lupita-Nyong'o-eclipsed.jpg
Lupita Nyong'o on Her Broadway Debut: "When we get up on that stage, you do not know what will happen"
"I think theater offers a chance to flex muscles that then only help to sustain cinematic work." - Lupita Nyong'o
http://www.dailyactor.com/actors-on-acting/lupita-nyongo-eclipsed-broadway/