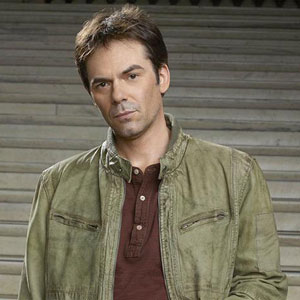 It's hard to imagine Billy Burke playing any other character in NBC's Revolution besides Miles Matheson.  But the pilot was actually shot with Burke playing militia leader Sebastian Monroe.
"After shooting my part of the pilot, Eric [Kripke, showrunner] called me and said, 'I think you'll find this good news: We'd like you to play Miles," Burke recalled in an interview with The New York Post.
The actor was immediately sold on being a part of the series (no matter which role he was going to play.)  "We met on a Sunday and they sat there and started pitching me on the idea of the show," he said.  "I stopped them in the middle and said, 'You don't have to pitch this.  I'm in, based on what this show is and what the pedigree is here.'"
Kripke knew from the start that he needed a powerhouse actor to play the role of Miles.  "I never wanted to be Luke, I always wanted to be Han Solo," he said.  "For me, that's the gold standard in leading men.  I've spent my entire career dealing with my feelings for Han Solo.  For this show, the lead needed to be Han Solo meets Humphrey Bogart in Casablanca.  That's not an easy part to cast.  The actors were either too young, or didn't have any history or world-weariness, or they weren't able to kick ass."
It's the kicking ass that's a little tiring for Burke, considering Miles spends most of his time sword fighting bad guys.
"It has been the most physically challenging thing I've ever done, and I've been doing this for a long time," Burke said.  "I wouldn't have it any other way.  There are days when I come home and I feel like I've fallen off a building.  But I got into the business to do stuff like this.  When I was a kid, this was the kind of role that I imagined myself in."
However, Burke might not have pictured himself in the role that he's currently best known for—Bella Swan's dad in the Twilight franchise.  "That was a great gig," he admitted.  "I flew in and had the luxury of my character being completely oblivious to everything that was going on."
Revolution airs on NBC, Mondays at 10 p.m.