Calista Flockhart is Getting Her "Theater Fix" by Doing the Staged-Radio Recording of 'The Seagull'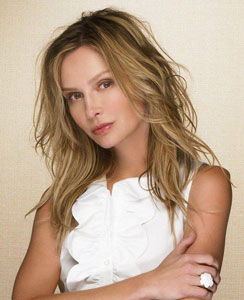 Calista Flockhart is finding new inspiration in a radio theater production of Chekhov's The Seagull at L.A. Theatre Works.
"For me it's all about getting my theatre fix," the 47-year-old said in an interview with The Guardian.  "It's a fun, low-key way to get into a room with talented actors and directors, and have a great time reading a classic, wonderful play."
The alternative set-up of having actors onstage reading into microphones provided Flockhart with an exciting project.  The play is recorded live in front of an audience, and then is also syndicated for radio stations around the country.  "For people who live in LA and who also live in traffic, this kind of production is actually quite wonderful," she said.  "We're half hidden behind mics, wearing minimal costumes with just a suggestion of a time period, and there's no blocking at all, but they laughed and cried.  I think it proves that people love a good story.  When you're a child and you're read to, you just close your eyes and listen, and so maybe that's all you need sometimes."
Playing the character of Irina Arkadina in the production would seem terrifying to some actors.  "It's edifying, but it's also a tease," Flockhart said.  "Last year when I did A Doll's House I kept talking about how I wanted to do that production, and this year I really want to do a production of The Seagull.  But right now I'm focusing on sixth grade, football games and getting through homework.  I have no big plan.  I'm a normal mum and yes, I'm also a theatre junkie, but my family is my priority.  That's what guides me."
Latest Videos
http://www.dailyactor.com/wp-content/uploads/2014/08/seth-rudetsky-reveals-the-5-wors.jpg
Seth Rudetsky Reveals the 5 Worst Musical Theater Audition Mistakes (video)
Seth Rudetsky, actor, musician and a host on SiriusXM's Broadway channel, has been teaching auditioning master classes this summer and he's seen his share of bad auditions lately. In this video, he reveals the 5 worst audition mistakes you can make in a musical theater audition and how to choose the perfect 16-bar audition song. [...]
http://www.dailyactor.com/2014/08/seth-rudetsky-5-worst-audition-mistakes/
http://www.dailyactor.com/wp-content/uploads/2014/07/sir-ben-kingsley-talks-about-the.jpg
Sir Ben Kingsley Talks about the Unique Way He Voiced His Character in the Animated Film, 'The Boxtrolls' (video)
I could listen to Sir Ben Kingsley talk about acting and.. well, I could listen to him talk about anything. He's starring in the new Laika stop-motion animated film, The Boxtrolls, and he and some of the cast (along with the director) joined in on a Comic-Con panel about the film. The Boxtrolls is about [...]
http://www.dailyactor.com/2014/07/sir-ben-kingsley-the-boxtrolls-comic-con/
http://www.dailyactor.com/wp-content/uploads/2014/07/bill-hader.jpg
Bill Hader: "I kind of fell into acting" (video)
Bill Hader, starring in the soon to be released The Skeleton Twins, talks about the film and how he fell into acting and then got "crazy lucky" in this quick video from USA Today.
http://www.dailyactor.com/2014/07/bill-hader-fell-into-acting-video/
http://www.dailyactor.com/wp-content/uploads/2014/07/director-john-carney-narrates-a.jpg
Director John Carney Narrates a Scene from 'Begin Again' Starring Kiera Knightley and Mark Ruffalo
Director John Carney (Once) narrates a scene from his new film, Begin Again. Starring Keira Knightley and Mark Ruffalo, the scene shows the first time the two characters meet. I haven't seen it yet but I've heard it's great.
http://www.dailyactor.com/2014/07/begin-again-scene-director-john-carney-keira-knightley-mark-ruffalo/
http://www.dailyactor.com/wp-content/uploads/2014/07/holler-if-you-hear-me-gma.jpg
Watch the Cast of Broadway's 'Holler If You Hear Me' Perform 'California Love' on GMA
The cast of Broadway's newest musical, Holler If You Hear Me with music from Tupac Shakur, performed on Good Morning America this morning. Singing 'California Love', the cast (including the teriffic Christopher Jackson – read our interview here), show why they're the most energetic and inspiring group of actors on Broadway. Holler If Ya Hear [...]
http://www.dailyactor.com/2014/07/watch-cast-broadways-holler-hear-perform-california-love-gma/