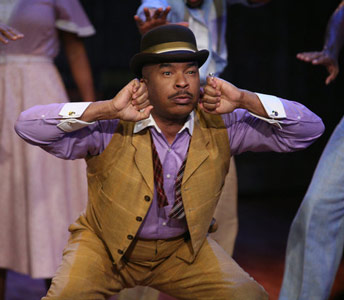 If you're like me you remember David Alan Grier for his years on In Living Color, so I was definitely surprised when I found out that Grier — who I usually think of in the hysterical roles of Antoine Merriweather and Calhoun Tubbs on the early 1990s sketch show — is a Yale-trained actor. 
He is currently utilizing his more dramatic skills in the role of the drug dealer Sporting Life in The Gershwins' Porgy and Bess, which is now on Broadway.  Grier spoke to the New York Times about his role in the play and his career-long ambition to be seen as a dramatic actor.
Grier admits that his tenure on the show is hard for people to ignore and they often expect him to be funny.  However, Grier reveals that he never expected to be seen as strictly a comedian, saying, "Some people think I play for laughs, that I'm just In Living Color.  But I never wanted to be a comic. I wanted to be a leading man — the black lawyer, the black doctor, the black policeman."
He earned his masters at Yale after several years of being unsuccessful in getting roles as an undergrad at the University of Michigan. Grier sees this move as a turning point for him, saying, "I never wanted to lose out on an acting job and wonder if I hadn't been trained enough."  And it was — shortly after graduating from Yale Grier landed the lead role in The First, a 1981 musical about the life of baseball legend Jackie Robinson.  Though the show was bashed by critics and only had a two-month run, Grier received a Tony nomination and strong write-ups, which confirmed
With The Gershwins' Porgy and Bess, Grier is actually taking a break from comedy — he has ruled out doing stand-up gigs for the next several months to keep his voice in shape for the theater.  With Grier receiving positive reviews for his role in the play, perhaps his original goal of being known for his dramatic parts will lead him to finally transcending his reputation as "only" a comedian.
The Gershwins' Porgy and Bess is currently running at the Richard Rodgers Theatre.