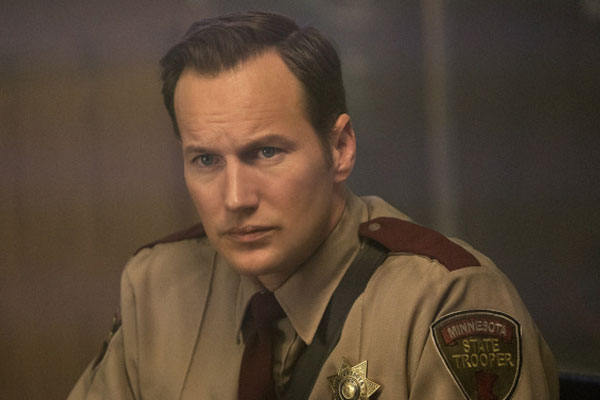 "I listened to country all across the map. George Jones. There's just a feeling that I get from country music. I wanted to keep Lou strong, focused" – Patrick Wilson on His 'Fargo' Character
Fans of Fargo will attest to the fact that showrunner Noah Hawley likes to keep viewers on their toes. One minute we're watching a dramatic, nail-biting scene and then the next, someone's making wise-cracks. Either that, or some hardcore violent act goes virtually unnoticed by the Fargo characters, who carry on with their lives as normal. It's these juxtapositions, twists and turns that keep us coming back for more, and which make FX's show such an enormous hit.
Fargo's first season was set in 2006, and followed Lester Nygaard (Martin Freeman), who, in an uncharacteristic outburst, killed his wife with a hammer. Events unraveled with the arrival of Lorne Malvo (Billy Bob Thornton) and it was down to cops Gus Grimly (Colin Hanks) and Molly Solverson (Allison Tolman) to try and solve a series of ever more brutal crimes. Playing Molly's father, Lou Solverson, was Keith Carradine. Throughout the first season, there was talk of his past as a cop, and the 'massacre at Siox Falls', and season two took us back in time to explain what happened.
Set in 1979, Fargo's second season centered around a young couple, Peggy and Ed (played by Kirsten Dunst and Jesse Plemmons), who accidentally killed a mamber of the Gerhardt crime family. This time around, Lou Solverson took a central role, and was played by Patrick Wilson. Among the more madcap and crazy characters, Lou was a sure, steady, calming influence, and Wilson notes that the uncomplicated costuming for his character (he was in uniform in nearly every scene) helped with his character.
"When you put the belt on and put your gun in, there was a real weight to it. I loved it. But I have two kids in elementary school, and, as a parent, I felt like, "This is probably why some people like uniforms. It's just one less thing. There's a real stability about going into work every single day and knowing exactly what I was going to wear. The days that Lou was at home and in jeans, I was like, [mournful voice]"Where's my burgundy puffy jacket?""
Lou proved to be a popular character in both seasons, probably just because he is a good man, with good intentions. During season two, his wife was dying of cancer and Lou always did his best to take care of their four year-old Molly, and his wife, while still working to solve a triple homicide that culminated in the massacre at Sioux Falls.
"I like playing bad guys and wacky guys. But I've never played someone as steadfast and solid as Lou. I aspire to be Lou. I don't know if it's just a male thing, but he's just not going to back down from anybody."
Wilson got the tone of his character just right, and, confirming that he always likes to listen to music before each scene, he divulges what would be on his Lou Solverson playlist.
"It was pretty mellow. I listened to country all across the map. George Jones. There's just a feeling that I get from country music. I wanted to keep Lou strong, focused. He's got so much going on in his head."
Via LA Times