Calista Flockhart is Getting Her "Theater Fix" by Doing the Staged-Radio Recording of 'The Seagull'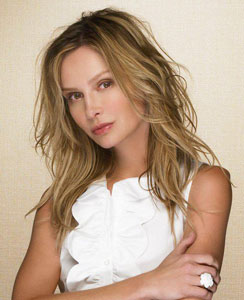 Calista Flockhart is finding new inspiration in a radio theater production of Chekhov's The Seagull at L.A. Theatre Works.
"For me it's all about getting my theatre fix," the 47-year-old said in an interview with The Guardian.  "It's a fun, low-key way to get into a room with talented actors and directors, and have a great time reading a classic, wonderful play."
The alternative set-up of having actors onstage reading into microphones provided Flockhart with an exciting project.  The play is recorded live in front of an audience, and then is also syndicated for radio stations around the country.  "For people who live in LA and who also live in traffic, this kind of production is actually quite wonderful," she said.  "We're half hidden behind mics, wearing minimal costumes with just a suggestion of a time period, and there's no blocking at all, but they laughed and cried.  I think it proves that people love a good story.  When you're a child and you're read to, you just close your eyes and listen, and so maybe that's all you need sometimes."
Playing the character of Irina Arkadina in the production would seem terrifying to some actors.  "It's edifying, but it's also a tease," Flockhart said.  "Last year when I did A Doll's House I kept talking about how I wanted to do that production, and this year I really want to do a production of The Seagull.  But right now I'm focusing on sixth grade, football games and getting through homework.  I have no big plan.  I'm a normal mum and yes, I'm also a theatre junkie, but my family is my priority.  That's what guides me."
http://www.dailyactor.com/wp-content/uploads/2016/02/alicia-Vikander-Ex-machina.jpg
Alicia Vikander on the Her First Trip to L.A. and the Acting Tip 'Ex-Machina' Director Alex Garland Gave Her
"You [get immersed in] a film and of course you think that that is it. And then you go away and you read a new script and you have a new crush" - Alicia Vikander
http://www.dailyactor.com/actors-on-acting/alicia-vikanderacting-tip-ex-machina-director-alex-garland-gave-her/
http://www.dailyactor.com/wp-content/uploads/2016/02/Channing-Tatum-Hail-Caesar.jpg
Channing Tatum Talks 'Hail, Caesar!': "I've been beating on the Coens' door for years, man"
"It's the most I've ever prepped for a six-minute section in a movie." - Channing Tatum
http://www.dailyactor.com/actors-on-acting/channing-tatum-hail-caesar-tap-dancing/
http://www.dailyactor.com/wp-content/uploads/2016/01/Isidora-Goreshter-Shameless-audition.jpg
Isidora Goreshter Remembers Her Audition for 'Shameless'
Goreshter recently recalled that her audition for the 'Shameless' was by far her worst ever.
http://www.dailyactor.com/actors-on-acting/isidora-goreshter-audition-for-shameless/
http://www.dailyactor.com/wp-content/uploads/2016/01/Sutton-Foster-Younger.jpg
Sutton Foster: "Sometimes I won't even find a character until I put on the costume"
"I never had grand aspirations to be a movie star, to be famous or to be on TV. The theater was what I wanted." - Sutton Foster
http://www.dailyactor.com/actors-on-acting/sutton-foster-younger-character-costume/
http://www.dailyactor.com/wp-content/uploads/2016/01/Paul-Giamatti-Billions.jpg
Paul Giamatti on Building His Career: "I was always willing to just go, 'OK, sure, I'll do that'"
"I've done everything an actor can do except porn and performing in an amusement park" - Paul Giamatti
http://www.dailyactor.com/actors-on-acting/paul-giamatti-billions-building-an-acting-career/