Rashida Jones on Writing Her First Script and Getting to the Serious Side of Andy Samberg in 'Celeste and Jesse Forever'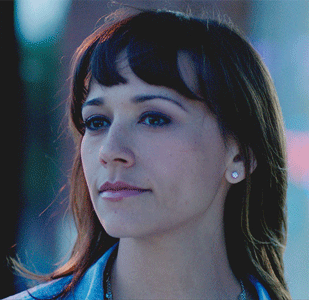 It's becoming increasingly common for actors to write their own film scripts, particularly for smaller, independent projects that actors do in between the big-budget studio films.  Add Rashida Jones to the list, as the former The Office star co-wrote Celeste and Jesse Forever with fellow actor Will McCormack, and the pair also star in the film alongside Andy Samberg.  Jones spoke to the Huffington Post about writing the film, the challenges associated with performing a character after creating her, and whether funnyman Samberg was able to handle the film's serious elements.
Jones admits that writing the script was difficult.  She explains, "We had to kind of dig deep, because we felt like that was the only way we were going to make it feel honest and real. Especially because Will and I have never written before. If we were gonna do something and people were gonna take notice, we had to say something that felt somewhat unique. That had to come from real experience."
Curiously, even though Jones wrote the character of Celeste, whom she plays, she gave the character some less-than-wonderful qualities.  She says it was a challenge to do so, both "as a writer and as an actress. I've been lucky enough to work a lot in the past couple of years, and the characters I play are very likeable. They're kind of dependable and logical and, you know, couldn't do anything bad if they tried. And I wanted to play somebody who was maybe a little bit less likeable, and whose character flaws were standing in her own way, you know? And as a writer, I think it's always important to have a character who has somewhere to go… I like stories about people who change a tiny bit, because that's what happens in real life. You go through an entirely traumatic experience and then you change a tiny little bit."
Despite working with Saturday Night Live star Samberg, Jones explains that the two avoided improvising and mainly stuck to what she wrote, revealing, "I mean, we would see how far we could take the jokes and see which ones worked the best, but when it came to most of the dialogue we really stuck to the script."  Nevertheless, Jones says that Samberg had no issue acting in a scripted, more serious film, pointing out, "Andy was really up to the task. We've been friends for years, and he read the script even before he had anything to do with it. And he was really nice about liking it, but also at a certain point was like, I think I can do this. He hasn't done anything like this before, and I think he felt ready. Especially because the character is a lot like him, and I think there are things he related to. If he was gonna step out and do some drama, this would be the right time to do it, because it's very much like him."
Celeste and Jesse Forever opens in theaters on Friday, August 3.
Latest Videos
http://www.dailyactor.com/wp-content/uploads/2014/09/watch-david-mamet-in-the-1976-sh.jpg
Watch: David Mamet in the 1976 Short Documentary 'The Playwright Directs'
Though David Mamet is best known for his distinctive writing style in his scripts for the stage and screen, he has also directed theater and film. The 1976 short documentary titled The Playwright Directs depicts Mamet directing actors through several scenes at an almost frantic pace, dispensing pearls of wisdom throughout, like his thoughts on […]
http://www.dailyactor.com/2014/09/watch-david-mamet-1976-documentary-the-playwright-directs/
http://www.dailyactor.com/wp-content/uploads/2014/09/watch-marvels-agents-of-s-h-i-e.jpg
Watch: Marvel's Agents of S.H.I.E.L.D. Season 1 Bloopers
Forgetting lines? Corpsing? Delivering lines in Spanish? Unruly props? All in a day's work on the set of Marvel's Agents of S.H.I.E.L.D, apparently. Clark Gregg, Ming-Na Wen, and the rest of the cast find plenty of humor while playing super-serious secret agents in the Marvel Universe. While you're waiting for season 2 of the series […]
http://www.dailyactor.com/2014/09/watch-marvels-agents-of-s-h-i-e-l-d-season-1-bloopers/
http://www.dailyactor.com/wp-content/uploads/2014/09/audtion-tapes-robin-wright-and-h.jpg
Audition Tapes: Robin Wright and Haley Joel Osment Audition with Tom Hanks for 'Forrest Gump'
Check out Robin Wright auditioning for the role of Jenny from Forest Gump opposite Tom Hanks. Interestingly enough, Hanks doesn't quite have Gump's southern drawl down just yet while the other actors audition with him. In fact, Hanks would base Gump's voice on the voice of Michael Conner Humphreys, who played the young Forrest and […]
http://www.dailyactor.com/2014/09/audtion-tapes-robin-wright-haley-joel-osment-tom-hanks-forrest-gump/
http://www.dailyactor.com/wp-content/uploads/2014/08/bryan-cranston-emmy-award-speech.jpg
Watch: Bryan Cranston's Emmy Award Speech: "I love to act. It is a passion of mine and I will do it until my last breath."
The Emmy Awards weren't the most exciting awards show this year but with Bryan Cranston winning for Outstanding Actor in a Drama for Breaking Bad, we at least got to hear one heck of a fantastic acceptance speech. "I was a kid who always looked for the shortcut," he said. "I did happen to stumble […]
http://www.dailyactor.com/2014/08/watch-bryan-cranston-and-aaron-pauls-emmy-award-speeches/
http://www.dailyactor.com/wp-content/uploads/2014/08/audition-tapes-gerard-butler-aud.jpg
Audition Tapes: Gerard Butler Auditions for 'Dracula 2000′
Check out Gerard Butler auditioning for the role of Dracula in the movie, Dracula 2000. The film, about a group of thieves who break into a chamber expecting to find paintings, but instead find Dracula himself, also starred Christopher Plummer, Jonny Lee Miller and Nathan Fillion. Bulter has some sweet rock star hair, huh?
http://www.dailyactor.com/2014/08/audition-tapes-gerard-butler-dracula-2000/