Rashida Jones on Writing Her First Script and Getting to the Serious Side of Andy Samberg in 'Celeste and Jesse Forever'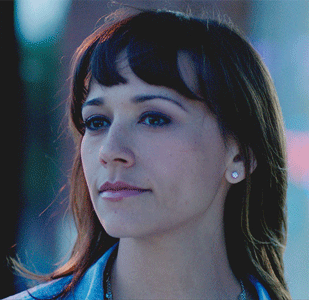 It's becoming increasingly common for actors to write their own film scripts, particularly for smaller, independent projects that actors do in between the big-budget studio films.  Add Rashida Jones to the list, as the former The Office star co-wrote Celeste and Jesse Forever with fellow actor Will McCormack, and the pair also star in the film alongside Andy Samberg.  Jones spoke to the Huffington Post about writing the film, the challenges associated with performing a character after creating her, and whether funnyman Samberg was able to handle the film's serious elements.
Jones admits that writing the script was difficult.  She explains, "We had to kind of dig deep, because we felt like that was the only way we were going to make it feel honest and real. Especially because Will and I have never written before. If we were gonna do something and people were gonna take notice, we had to say something that felt somewhat unique. That had to come from real experience."
Curiously, even though Jones wrote the character of Celeste, whom she plays, she gave the character some less-than-wonderful qualities.  She says it was a challenge to do so, both "as a writer and as an actress. I've been lucky enough to work a lot in the past couple of years, and the characters I play are very likeable. They're kind of dependable and logical and, you know, couldn't do anything bad if they tried. And I wanted to play somebody who was maybe a little bit less likeable, and whose character flaws were standing in her own way, you know? And as a writer, I think it's always important to have a character who has somewhere to go… I like stories about people who change a tiny bit, because that's what happens in real life. You go through an entirely traumatic experience and then you change a tiny little bit."
Despite working with Saturday Night Live star Samberg, Jones explains that the two avoided improvising and mainly stuck to what she wrote, revealing, "I mean, we would see how far we could take the jokes and see which ones worked the best, but when it came to most of the dialogue we really stuck to the script."  Nevertheless, Jones says that Samberg had no issue acting in a scripted, more serious film, pointing out, "Andy was really up to the task. We've been friends for years, and he read the script even before he had anything to do with it. And he was really nice about liking it, but also at a certain point was like, I think I can do this. He hasn't done anything like this before, and I think he felt ready. Especially because the character is a lot like him, and I think there are things he related to. If he was gonna step out and do some drama, this would be the right time to do it, because it's very much like him."
Celeste and Jesse Forever opens in theaters on Friday, August 3.
http://www.dailyactor.com/wp-content/uploads/2016/08/imperium_daniele_radcliffe.jpg
Daniel Radcliffe on Playing a Neo-Nazi in 'Imperium': "It's still just horrible to say some of this stuff"
Radcliffe reveals how he played such a layered character and what it felt like to say his character's hate-filled dialogue.
http://www.dailyactor.com/actors-on-acting/daniel-radcliffe-playing-a-neo-nazi-imperium/
http://www.dailyactor.com/wp-content/uploads/2016/08/John-Cho-Star-Trek-Beyond.jpg
How John Cho Took A Stand for Diversity Early in His Career
"When one does speak one's mind, one might be surprised at how receptive people are." - Actor John Cho
http://www.dailyactor.com/actors-on-acting/john-cho-took-a-stand-for-diversity/
http://www.dailyactor.com/wp-content/uploads/2016/08/simon-helberg-florence-foster-jenkins.jpg
Simon Helberg on His 'Florence Foster Jenkins' Role: "I'm an actor and I want to stretch different muscles"
Helberg spoke about portraying his character in the film and whether or not he feels typecast by his Big Bang Theory role.
http://www.dailyactor.com/actors-on-acting/simon-helberg-florence-foster-jenkins-role/
http://www.dailyactor.com/wp-content/uploads/2016/08/Will-Chase-Something-Rotten.jpg
The Role That Got Away: Will Chase on Returning to 'Something Rotten!'
"I know that I am a poor man's fill-in-the-blank. And I know that there are poor man's Will Chases out there. That's just the nature of the business" - Will Chase
http://www.dailyactor.com/actors-on-acting/will-chase-something-rotten-role-that-got-away/
http://www.dailyactor.com/wp-content/uploads/2016/08/Julia-Stiles-Jason-Bourne.jpg
Julia Stiles on the Jason Bourne Series and Growing as an Actress: "There's always room for improvement"
"I like a director that encourages me to be playful. I don't really like being restricted or controlled by a director." - Julia Stiles
http://www.dailyactor.com/actors-on-acting/julia-stiles-growing-as-an-actress/