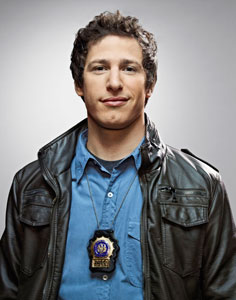 Transitioning from one of late night's most iconic shows to an entertainment career outside the hallowed halls of 30 Rockefeller Plaza can be a bumpy one. For longtime Saturday Night Live cast member Andy Samberg, he decided to take a look at the successful career blueprints from other famous SNL alumni.
He decided to take a page from Parks and Recreation star Amy Poehler's playbook because she smoothly moved from late night to primetime. Even with that map, the 35-year-old comedian wasn't exactly sure what he was going to do next.
He told the New York Times, "I was thinking I was going to be doing more dabbling, and maybe even a little more relaxing."
However, Samberg made a wise decision not to jump at the first project that comes his way.
Samberg revealed, "It's easy to have the impulse of, 'I've got to strike, I've got to be relevant, I've got to keep this thing alive,'" he said. "But the truth is, if you're doing stuff you like, it'll happen, and it'll happen in the way that's right for you."
When Samberg was approached by Arrested Development's Terry Crews for Brooklyn Nine-Nine, he came aboard once he saw a rough draft of the concept. The comedy will feature the actor as a detective surrounded by a squad of misfit cops whose precinct is shaken up with the arrival of a new captain played by Andre Braugher.
Not only did Samberg sign on to star, he is also a producer. He felt like he could juggle both roles.
"I could memorize some lines and perform it a bunch of times, and maybe add some jokes or make a note that they'll go, 'Hey, nice one note, producer,'" the FOX star said. "I'm not going home at night thinking, 'I didn't think of a full new idea that has to air tomorrow.'"
Even with his new creative venture, Samberg still looks back wistfully at the show he left in May 2012.
"The immediacy and the creative freedom of SNL is unlike any other job," he shared, "unless you have your own YouTube channel, and that's what you do for a living."
With Brooklyn Nine-Nine set to premiere on Sept. 17, it's pretty sweet for the former NBC star to work on the same set where he was a production assistant for Spin City years ago. The difference is pretty dramatic.
With a smile, he said, "I went and got everybody's lunches every day. And now I have my own parking space. It feels real good. It's the best."