Online Casting: Actors Putting Themselves on Tape is Changing the Landscape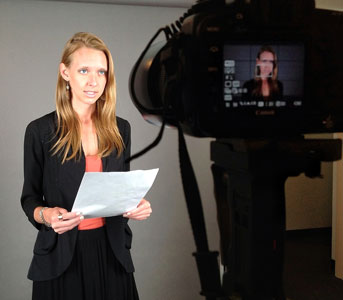 These days every actor thinks he can put himself on tape for an audition and upload it online. It's simple, right?  Heck, I can use my iPhone and I'm off to the races. 
I was one of those people for a number of years. I would coordinate at home and turn my living room into a mini-soundstage, making sure to orchestrate the filming of my audition to capture the best natural sunlight at the best possible time. 
I could belabor the point but to basically cut to the chase, I figure maybe 20% of the auditions I was submitting looked good.  I'm not a DP and I'm certainly not a sound guy too.  The other 80% of my taped auditions looked like shit.  I was basically in denial of all of this until I checked out Argentum's Casting Suite, which was recently launched at the successful photo lab's Hollywood location.  They filmed an audition I submitted for my New Orleans agent on a Canon 7D and when I saw how incredible the HD quality was with the professional set-up and how my performance looked, I wanted to punch myself in the face for the disservice I had been doing to my work and career.  
I had professional places film my auditions before, and they charged me close to a hundred dollars.  I couldn't fathom spending that per audition.  I was attracted to Argentum's Casting Suite because they made the game-change move to offer their HD auditions to actors for ten dollars.
Ajay Jhaveri, owner of Argentum Photo, states, "In an age of HD quality, homemade auditions and low quality have simply become unacceptable . Yes, you can shoot your audition with an iPhone, but casting directors don't want to see that. My biggest thing has always been, what's the purpose of the product?  The purpose of the headshot is to sell the actor, nothing else. The only thing you should see is the actor. I'm taking the same approach with online casting."
In 2010 Breakdown Services created Eco-Cast, the industry's first virtual pre-read audition system. Eco-Cast allows casting directors to see virtual auditions wherever they are, thus taking away the need for travel for both the casting directors and actors.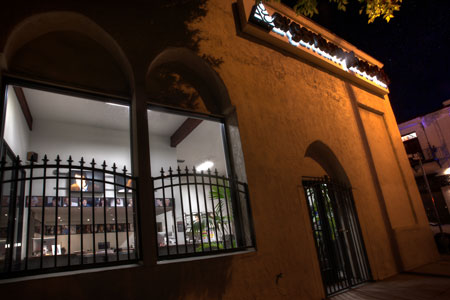 At Argentum's new Casting Suite, actors show up with sides and Argentum's staff shoots, uploads and hosts the audition via outlets such as Eco-Cast, which represent an evolution of the initial 'pre-read' for actors and opens up opportunities for actors to be presented to casting offices and projects filming in other states or countries. Since Argentum is synonymous with top quality, actors are ensured they receive the best looking audition online and the Casting Suite offers actors multiple takes where they can decide which is the best to submit to casting.
"Ten dollars doesn't even cover our time and cost," says Jhaveri. "There are places charging $50-$75 dollars for an audition. How's an actor going to pay $200 a week, if he or she has to do four of these auditions and be in the running?  At Argentum we want to keep it at $10, so it's not a ripoff.  Hopefully it helps actors out."
Argentum and Breakdown Services are ahead of the curve here. I can envision a time when this might be the major outlet to submit for roles, and at the same time create more opportunities for actors to be in the running for roles all over the world.  It saves everybody money and ultimately that is going to determine the future of virtual auditions. 
Breakdown Services owner Gary Marsh says, "It is always exciting to find entrepreneurs who really try to stretch their business in positive ways.  I recently met Ajay, owner of Argentum Photo Lab.  We immediately 'clicked' when we discussed the future of virtual auditions.  He really understood the positive benefit that Eco-Cast has for actors who want to record and upload their own auditions to casting.  He immediately set about creating a great environment for actors at his Sunset Blvd. office to use when they need to fulfill an audition request.  I recommend every actor needing to create a virtual audition to check out this new service from Argentum Photo Lab called Argentum's Casting Suite."
In three to five years you won't be seeing casting do pre-reads.  By the time it takes them to review pictures and set appointments and hold sessions, they could have reviewed a hundred actors rather than just twenty.  Soon it could all be virtual.
Latest Videos
http://www.dailyactor.com/wp-content/uploads/2014/09/audtion-tapes-robin-wright-and-h.jpg
Audition Tapes: Robin Wright and Haley Joel Osment Audition with Tom Hanks for 'Forrest Gump'
Check out Robin Wright auditioning for the role of Jenny from Forest Gump opposite Tom Hanks. Interestingly enough, Hanks doesn't quite have Gump's southern drawl down just yet while the other actors audition with him. In fact, Hanks would base Gump's voice on the voice of Michael Conner Humphreys, who played the young Forrest and […]
http://www.dailyactor.com/2014/09/audtion-tapes-robin-wright-haley-joel-osment-tom-hanks-forrest-gump/
http://www.dailyactor.com/wp-content/uploads/2014/08/bryan-cranston-emmy-award-speech.jpg
Watch: Bryan Cranston's Emmy Award Speech: "I love to act. It is a passion of mine and I will do it until my last breath."
The Emmy Awards weren't the most exciting awards show this year but with Bryan Cranston winning for Outstanding Actor in a Drama for Breaking Bad, we at least got to hear one heck of a fantastic acceptance speech. "I was a kid who always looked for the shortcut," he said. "I did happen to stumble […]
http://www.dailyactor.com/2014/08/watch-bryan-cranston-and-aaron-pauls-emmy-award-speeches/
http://www.dailyactor.com/wp-content/uploads/2014/08/audition-tapes-gerard-butler-aud.jpg
Audition Tapes: Gerard Butler Auditions for 'Dracula 2000′
Check out Gerard Butler auditioning for the role of Dracula in the movie, Dracula 2000. The film, about a group of thieves who break into a chamber expecting to find paintings, but instead find Dracula himself, also starred Christopher Plummer, Jonny Lee Miller and Nathan Fillion. Bulter has some sweet rock star hair, huh?
http://www.dailyactor.com/2014/08/audition-tapes-gerard-butler-dracula-2000/
http://www.dailyactor.com/wp-content/uploads/2014/08/interview-matt-dillon-and-carla.jpg
Interview: Matt Dillon and Carla Gugino Talk 'Wayward Pines'
FOX has a new limited-series that's got a terrific cast and interesting premise. It's called Wayward Pines and stars Matt Dillon, Carla Gugino, Melissa Leo, Toby Jones, Terrance Howard, Juliette Lewis, Tim Griffin and Shannyn Sossamon. The show, whose pilot was directed by M. Night Shyamalan, is about a Secret Service agent (Dillon) goes to […]
http://www.dailyactor.com/2014/08/interview-matt-dillon-carla-gugino-wayward-pines-comic-con/
http://www.dailyactor.com/wp-content/uploads/2014/08/interview-wayward-pines-stars-ti.jpg
Interview: 'Wayward Pines' Stars Tim Griffin and Shannyn Sossamon on the Show, Their Characters and More!
Griffin and Sossamonwere at Comic-Con where they sat in on some roundtable interviews to talk about the show.
http://www.dailyactor.com/2014/08/interview-wayward-pines-stars-tim-griffin-shannyn-sossamon-comic-con/