Biography: Rob Corddry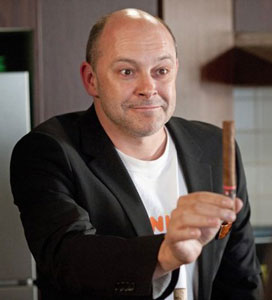 Rob Corddry made his debut on The Daily Show with Jon Stewart in the spring of 2002 and quickly became one of the most popular correspondents to emerge from the groundbreaking program. He continued with the show through the fall of 2006, and has since made guest appearances.
In 2007, he starred in the television series The Winner, created by Seth MacFarlane and Ricky Blitt. Joining the throngs of many other critically acclaimed shows before it, The Winner lasted only a half-dozen episodes before it was taken off the air. Writing and creating his own comedic content, Mr. Corddry was one of the first talents to craft original "television-esque" programming for the Internet. Teaming up with Warner Bros. TV Group's digital arm, Studio 2.0, he served as creator, writer, and director of the web series Childrens Hospital, which spoofs the medical drama genre. Launched in December 2008, the 5-minute chapters starred him alongside Jason Sudeikis, Lake Bell, Megan Mullally, and Ed Helms, among others. The series won the Webby Award for Comedy: Long Form or Series and received two other nominations including for his performance. Season 2 then debuted on Adult Swim, making Childrens Hospital one of only two shows ever to make the successful transition from a web series to a television series. Season 3 aired in 2011, and season 4 will debut this year.
He has starred in a host of features, including Oliver Stone's W., as Ari Fleischer; Steve Pink's Hot Tub Time Machine, with John Cusack and Craig Robinson; Miguel Arteta's Cedar Rapids, opposite Ed Helms; Tom Vaughan's What Happens in Vegas, written by Dana Fox, opposite Ashton Kucther, Cameron Diaz, and Lake Bell; James C. Strouse's The Winning Season, opposite Sam Rockwell; Jon Hurwitz and Hayden Schlossberg's Harold & Kumar Escape from Guantanamo Bay; Todd Phillips' Old School; Jim Field Smith's Butter, with Jennifer Garner, Hugh Jackman, Olivia Wilde, and Alicia Silverstone; and Jonathan Levine's Warm Bodies, with Nicholas Hoult, Teresa Palmer, and John Malkovich, which is due out in February 2013.
Mr. Corddry has guest-starred on such television series as Curb Your Enthusiasm and Arrested Development.
Latest Videos
http://www.dailyactor.com/wp-content/uploads/2014/07/bill-hader.jpg
Bill Hader: "I kind of fell into acting" (video)
Bill Hader, starring in the soon to be released The Skeleton Twins, talks about the film and how he fell into acting and then got "crazy lucky" in this quick video from USA Today. Share on Tumblr
http://www.dailyactor.com/2014/07/bill-hader-fell-into-acting-video/
http://www.dailyactor.com/wp-content/uploads/2014/07/director-john-carney-narrates-a.jpg
Director John Carney Narrates a Scene from 'Begin Again' Starring Kiera Knightley and Mark Ruffalo
Director John Carney (Once) narrates a scene from his new film, Begin Again. Starring Keira Knightley and Mark Ruffalo, the scene shows the first time the two characters meet. I haven't seen it yet but I've heard it's great.
http://www.dailyactor.com/2014/07/begin-again-scene-director-john-carney-keira-knightley-mark-ruffalo/
http://www.dailyactor.com/wp-content/uploads/2014/07/holler-if-you-hear-me-gma.jpg
Watch the Cast of Broadway's 'Holler If You Hear Me' Perform 'California Love' on GMA
The cast of Broadway's newest musical, Holler If You Hear Me with music from Tupac Shakur, performed on Good Morning America this morning. Singing 'California Love', the cast (including the teriffic Christopher Jackson – read our interview here), show why they're the most energetic and inspiring group of actors on Broadway. Holler If Ya Hear [...]
http://www.dailyactor.com/2014/07/watch-cast-broadways-holler-hear-perform-california-love-gma/
http://www.dailyactor.com/wp-content/uploads/2014/07/behind-the-scenes-of-dawn-of-the.jpg
Behind the Scenes of 'Dawn of the Planet of the Apes' with Performance Capture Actor Terry Notary
Actor Terry Notary is 1 of 5 actors playing the apes in the new Dawn of the Planet of the Apes. "When you see armies of apes," he says, that's "five of us." Check out the video where you can watch his performance capture work.
http://www.dailyactor.com/2014/07/dawn-planet-apes-performance-capture-actor-terry-notary/
http://www.dailyactor.com/wp-content/uploads/2014/07/melissa-mccarthy-daily-show.jpg
Melissa McCarthy and John Stewart Talk About Terrible Commercial Auditions on 'The Daily Show'
Melissa McCarthy stopped by The Daily Show last week to plug about her new movie, Tammy. She talked about how she loved working with her husband, Ben Falcone (director of Tammy) and then segued into talking about some horrible working situations. The always hilarious McCarthy then started to tell host John Stewart about a particular [...]
http://www.dailyactor.com/2014/07/melissa-mccarthy-john-stewart-commercial-auditions-the-daily-show/