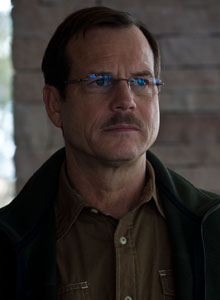 BILL PAXTON is a highly respected actor and director who has starred in such blockbuster films as Twister, True Lies, Aliens, Tombstone, Apollo 13 and Titanic. He will next be seen in Daniel Hsia's Shanghai Calling, alongside Alan Ruck and Zhu Zhu. On the small screen, Paxton received three Golden Globe Award nominations for his work on the acclaimed HBO drama series "Big Love," starring opposite Jeanne Tripplehorn, Chloë Sevigny and Ginnifer Goodwin. He will be seen in the 2012 History Channel series "Hatfields & McCoys," starring alongside Kevin Costner and Mare Winningham.
Paxton works on both sides of the camera. He is currently executive producing (along with Tom Hanks and Gary Goetzman) a miniseries for HBO that will commemorate the 50th anniversary of President John F. Kennedy's assassination. The miniseries is set to air on HBO in 2013.
In 2001, Paxton directed the gothic thriller Frailty, in which he also starred alongside Matthew McConaughey. Frailty was honored with the National Board of Review's Special Mention for Excellence in Filmmaking. In 2005, Paxton directed the sports drama The Greatest Game Ever Played, starring Shia LaBeouf. Additionally, he served as a producer on the features The Good Life and Traveller, in which he starred with Mark Wahlberg and Julianna Margulies.  Paxton began his career as a set dresser on producer Roger Corman's Big Bad Mama in the mid 1970s. After working in the art department on several features, Paxton moved to New York to study acting with Stella Adler. Returning to Los Angeles in 1980, he met James Cameron while moonlighting as a set dresser on Roger Corman's Galaxy of Terror.
After gaining much attention in the John Hughes comedy Weird Science and Cameron's classic Aliens, Paxton turned in a widely acclaimed performance as a small-town sheriff in Carl Franklin's One False Move that marked his emergence as a leading man. In 1998, Roger Ebert cited Paxton as his Best Actor choice for his turn as Hank Mitchell in Sam Raimi's A Simple Plan. That same year, Paxton received a Golden Globe nomination for his performance in HBO's "A Bright Shining Lie."
Other film credits include U-571, Mighty Joe Young, Vertical Limit, Trespass, Indian Summer, Near Dark, Boxing Helena, The Dark Backwards, Club Dread, The Evening Star, Streets of Fire, Frank and Jesse, Navy Seals, Predator 2, The Vagrant and Pass the Ammo.
Paxton, a native of Ft. Worth, Texas, now resides with his wife and children in California.
Biography courtesy of Relativity Media. Haywire opened Jan. 20th. .