Biography: Rob Corddry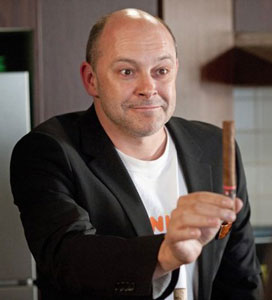 Rob Corddry made his debut on The Daily Show with Jon Stewart in the spring of 2002 and quickly became one of the most popular correspondents to emerge from the groundbreaking program. He continued with the show through the fall of 2006, and has since made guest appearances.
In 2007, he starred in the television series The Winner, created by Seth MacFarlane and Ricky Blitt. Joining the throngs of many other critically acclaimed shows before it, The Winner lasted only a half-dozen episodes before it was taken off the air. Writing and creating his own comedic content, Mr. Corddry was one of the first talents to craft original "television-esque" programming for the Internet. Teaming up with Warner Bros. TV Group's digital arm, Studio 2.0, he served as creator, writer, and director of the web series Childrens Hospital, which spoofs the medical drama genre. Launched in December 2008, the 5-minute chapters starred him alongside Jason Sudeikis, Lake Bell, Megan Mullally, and Ed Helms, among others. The series won the Webby Award for Comedy: Long Form or Series and received two other nominations including for his performance. Season 2 then debuted on Adult Swim, making Childrens Hospital one of only two shows ever to make the successful transition from a web series to a television series. Season 3 aired in 2011, and season 4 will debut this year.
He has starred in a host of features, including Oliver Stone's W., as Ari Fleischer; Steve Pink's Hot Tub Time Machine, with John Cusack and Craig Robinson; Miguel Arteta's Cedar Rapids, opposite Ed Helms; Tom Vaughan's What Happens in Vegas, written by Dana Fox, opposite Ashton Kucther, Cameron Diaz, and Lake Bell; James C. Strouse's The Winning Season, opposite Sam Rockwell; Jon Hurwitz and Hayden Schlossberg's Harold & Kumar Escape from Guantanamo Bay; Todd Phillips' Old School; Jim Field Smith's Butter, with Jennifer Garner, Hugh Jackman, Olivia Wilde, and Alicia Silverstone; and Jonathan Levine's Warm Bodies, with Nicholas Hoult, Teresa Palmer, and John Malkovich, which is due out in February 2013.
Mr. Corddry has guest-starred on such television series as Curb Your Enthusiasm and Arrested Development.
http://www.dailyactor.com/wp-content/uploads/2016/04/Christine-Baranski-The-Good-Wife.jpg
Christine Baranski on the End of 'The Good Wife' and Going Back to Theatre
The final episode of The Good Wife airs on May 8, and it's been several weeks since series star Christine Baranski shot the final episode with her co-stars. She spoke to The Hollywood Reporter about the end of the series she has spent the last seven years working on and what she plans to do […]
http://www.dailyactor.com/tv/christine-baranski-the-good-wife-theatre/
http://www.dailyactor.com/wp-content/uploads/2016/04/jake-gyllenhaal-demolition.jpg
Jake Gyllenhaal on 'Demolition', Working with Chris Cooper and Directors Who Want Nothing to Do With Him
"I think storytelling is the most important part of movie-making over performance." - Jake Gyllenhaal
http://www.dailyactor.com/actors-on-acting/jake-gyllenhaal-demolition-chris-cooper/
http://www.dailyactor.com/wp-content/uploads/2016/04/don-cheadle-miles-davis.jpg
Don Cheadle: "Be scared. Be on the edge of your creativity"
"Be willing to fall flat on your face and be in an unknown place. If you're doing that, you're probably growing" - Don Cheadle
http://www.dailyactor.com/actors-on-acting/don-cheadle-scared-creativity/
http://www.dailyactor.com/wp-content/uploads/2016/04/jessie-eisenberg-louder-than-bombs.jpg
What is Jesse Eisenberg's "Most Fulfilling Acting Experience"?
"My absolute favorite thing to do is to write a play and then, after I finish, do the first reading of it with my friends around the table"- Jesse Eisenberg
http://www.dailyactor.com/actors-on-acting/jesse-eisenberg-most-fulfilling-acting-experience/
http://www.dailyactor.com/wp-content/uploads/2016/03/Lupita-Nyong'o-eclipsed.jpg
Lupita Nyong'o on Her Broadway Debut: "When we get up on that stage, you do not know what will happen"
"I think theater offers a chance to flex muscles that then only help to sustain cinematic work." - Lupita Nyong'o
http://www.dailyactor.com/actors-on-acting/lupita-nyongo-eclipsed-broadway/