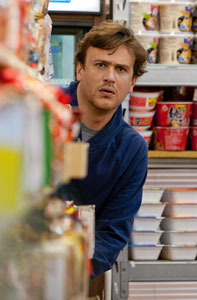 Jason Segel landed his first major picture starring role as Peter in Universal Pictures' "Forgetting Sarah Marshall," which he also wrote.  Produced by Judd Apatow and Shauna Robertson, and directed by Nicholas Stoller, the 2008 release went to make over $100 million worldwide and transformed Segel into one of Hollywood's most sought-after writers. 
Because of the "Dracula" musical puppet sequence that ended the film – Jason's personal idea and passion project – he was emboldened to pitch his own concept for a Muppets movie.  Consequently, he, along with Stoller, signed on with Disney to write and direct the 2011 Thanksgiving release "The Muppets," which went on to make over $150 million worldwide and garner some of the best reviews of the year.  The film won an Academy Award® for Best Original Song for "Man or Muppet," written by Bret McKenzie and performed by Jason Segel.
In June 2007, Segel was asked by Apatow to join stars Seth Rogen, Katherine Heigl, Paul Rudd and Leslie Mann in the successful comedy "Knocked Up," which grossed over $140 million dollars domestically and won the People's Choice Award for Favorite Movie Comedy.  In 2009, Segel rejoined Rudd in Paramount's "I Love You, Man" for writer/director/producer John Hamburg ("Meet the Parents"); the film grossed $78.9 million worldwide.
Re-collaborating with Stoller in 2010, Segel wrote and co-produced the film "Get Him to the Greek," where Jonah Hill and Russell Brand reunited as co-stars in a spin-off of "Forgetting Sarah Marshall."  The film grossed $88.3 million worldwide and won the Teen Choice Award for Choice Movie: Comedy.  In 2011 Segel joined Cameron Diaz and Justin Timberlake as co-star in the comedy film "Bad Teacher," which has gone on to make over $200 million worldwide.
Segel's feature film credits also include "Slackers," "The New Jersey Turnpikes," "S.L.C. Punk," "Can't Hardly Wait" and "Dead Man on Campus."
On the television front, Segel stars as Marshall in CBS's hit comedy series "How I Met Your Mother," one of Time magazine's Ten Best Shows of 2005.  But it was his recurring role as Eric on the Apatow-produced FOX series "Undeclared" (one of Time's Ten Best Shows of 2001) that first brought him a following among TV viewers.  Previously, in 1999, Segel portrayed Nick Andopolis on Apatow's Emmy award-nominated NBC series "Freaks and Geeks" – it was their first collaboration that led to many more.
Segel currently resides in his hometown of Los Angeles.
Biography/Filmography courtesy of Paramount Pictures and the film, Jeff Who Lives at Home