Clark Gregg Talks 'The Avengers', Agent Coulson and Voice-Over Work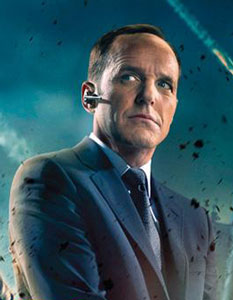 Agent Phil Coulson first appeared as a mostly background character in Marvel's Iron Man movie portrayed by Clark Gregg.  Gregg has managed to make that character a major part of the Marvel movie universe, not only appearing in Iron Man 2 and Thor but also the upcoming superhero team-up movie The Avengers. 
But Coulson isn't just on the big screen — Gregg has appeared as Coulson in several shorts that link the Marvel films, and is now also reprising the role — who also moonlights as Peter Parker's high school principal — as a voice actor for Ultimate Spider-Man, a new animated television series.  Gregg talks about his new role as a voice actor and the future of Agent Coulson to NBC New York.
Though it is his first animated series, Ultimate Spider-Man isn't the first time Gregg has done voice acting.  He explains, "I started a theater company in New York with David Mamet and Bill Macy years ago, and one of the things that Mamet loved was radio plays. We did a bunch of them. I directed one for NPR years ago with he and Felicity Huffman. I've always loved them, but I've never done an animated show before and I always wanted to. I just never thought that it would be as cool as being Principal Coulson and getting to hang out with Aunt May who's kind of hot in Ultimate Spider-Man."
So is Gregg's Coulson set to be Marvel's "good luck charm," like John Ratzenberger for Pixar?  Not if Gregg can help it, because he's pushing for Coulson to get his own movie.  He says, "I've been floating that! It's like a dirigible made of iron. There're a lot of interesting plans for Agent Coulson. So far I don't say stuff. They keep coming to me with interesting stuff, stuff like this. Basically I just wait to hear what crazy thing they're going to come up with next."
Nonetheless, though Gregg has spent the last several years interacting with superheroes it hasn't raised his profile among his daughter.  He admits, "It's funny to have a daughter. If I had a ten-year-old son I think I would be a pretty big guy around the house. But unless I end up in a scene with Taylor Swift in one of these movies it's just getting me no love at my house."
Latest Videos
http://www.dailyactor.com/wp-content/uploads/2014/08/seth-rudetsky-reveals-the-5-wors.jpg
Seth Rudetsky Reveals the 5 Worst Musical Theater Audition Mistakes (video)
Seth Rudetsky, actor, musician and a host on SiriusXM's Broadway channel, has been teaching auditioning master classes this summer and he's seen his share of bad auditions lately. In this video, he reveals the 5 worst audition mistakes you can make in a musical theater audition and how to choose the perfect 16-bar audition song. [...]
http://www.dailyactor.com/2014/08/seth-rudetsky-5-worst-audition-mistakes/
http://www.dailyactor.com/wp-content/uploads/2014/07/sir-ben-kingsley-talks-about-the.jpg
Sir Ben Kingsley Talks about the Unique Way He Voiced His Character in the Animated Film, 'The Boxtrolls' (video)
I could listen to Sir Ben Kingsley talk about acting and.. well, I could listen to him talk about anything. He's starring in the new Laika stop-motion animated film, The Boxtrolls, and he and some of the cast (along with the director) joined in on a Comic-Con panel about the film. The Boxtrolls is about [...]
http://www.dailyactor.com/2014/07/sir-ben-kingsley-the-boxtrolls-comic-con/
http://www.dailyactor.com/wp-content/uploads/2014/07/bill-hader.jpg
Bill Hader: "I kind of fell into acting" (video)
Bill Hader, starring in the soon to be released The Skeleton Twins, talks about the film and how he fell into acting and then got "crazy lucky" in this quick video from USA Today.
http://www.dailyactor.com/2014/07/bill-hader-fell-into-acting-video/
http://www.dailyactor.com/wp-content/uploads/2014/07/director-john-carney-narrates-a.jpg
Director John Carney Narrates a Scene from 'Begin Again' Starring Kiera Knightley and Mark Ruffalo
Director John Carney (Once) narrates a scene from his new film, Begin Again. Starring Keira Knightley and Mark Ruffalo, the scene shows the first time the two characters meet. I haven't seen it yet but I've heard it's great.
http://www.dailyactor.com/2014/07/begin-again-scene-director-john-carney-keira-knightley-mark-ruffalo/
http://www.dailyactor.com/wp-content/uploads/2014/07/holler-if-you-hear-me-gma.jpg
Watch the Cast of Broadway's 'Holler If You Hear Me' Perform 'California Love' on GMA
The cast of Broadway's newest musical, Holler If You Hear Me with music from Tupac Shakur, performed on Good Morning America this morning. Singing 'California Love', the cast (including the teriffic Christopher Jackson – read our interview here), show why they're the most energetic and inspiring group of actors on Broadway. Holler If Ya Hear [...]
http://www.dailyactor.com/2014/07/watch-cast-broadways-holler-hear-perform-california-love-gma/