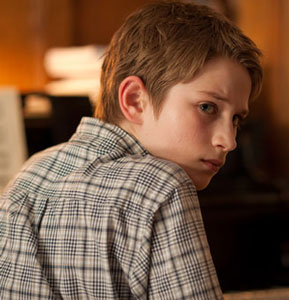 Appearing on Jeopardy! and coming home with over $30,000 would be the highlight of most kids' formative years, but 14-year-old Thomas Horn is one-upping himself with a starring role in the big-screen adaptation of 9/11 aftermath novel Extremely Loud & Incredibly Close, which arrived in select theaters on Christmas and will receive a wide release today.
"I was on an episode of kids' Jeopardy! and someone high up in the production of the upcoming movie saw me," Horn, who won $31,800 on the iconic game show, told The Hollywood Reporter. "My whole family was a bit confused, but we were curious. We didn't know what a casting agency was, or anything about the entertainment industry. I'm not a huge movie fan."
The casting of Horn was the culmination of a nationwide search for the perfect actor to play the young Oskar Schell, whose father was on the 105th floor of the World Trade Center's south tower when terrorists struck on September 11, 2001. "We had scouts going out to schools and auditioned 3,000 kids in America and in Europe as well, for the better part of a year," said director Stephen Daldry. 
It seems that the award-winning director may have transformed the young teenager into a bit more of a movie fan. "He gave me a lot of space for creative input. Who says I deserve that? I don't. But I admire that he's willing to let people have their creative try," said Horn, who channeled his character in his own special way. "I would go into a little room off the set that the director built for me and think about what my character was feeling in his situation. When I felt that the character had entered my body and that I was fully being the character, then I could leave and do a good job."
Extremely Close & Incredibly Loud also stars Tom Hanks, Sandra Bullock and John Goodman.