Nominated for Best Musical, Broadway's 'Leap of Faith' to Close This Sunday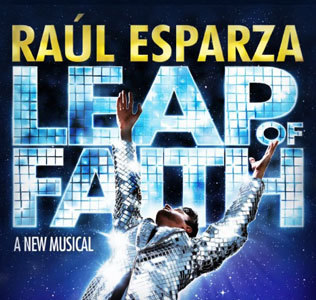 Even though it was just nominated for Best Musical for the 2012 Tony Awards, the Producers of
Leap of Faith
announced today that the show will close at Broadway's St. James Theatre this Sunday May 13 after the matinee performance. 
In a statement, they said "Although we love our show and very much appreciate both our many award nominations and the joy of our audiences, we have not been able to achieve a sustainable level of ticket sales to continue.  We thank all those who worked so hard over so many years to bring Leap of Faith to Broadway."
Starring Raúl Esparza, the musical opened on Thursday April 26 and will have played 24 previews and 20 regular performances.
Latest Videos
http://www.dailyactor.com/wp-content/uploads/2014/11/sag-foundation-conversation-with.jpg
SAG Foundation Conversation with the Cast of NBC's 'Marry Me'
Earlier this month NBC put in an order for five additional episodes of its freshman romantic comedy series, Marry Me. While that isn't exactly the shot of confidence that a full-season renewal provides, it's enough to keep fans of the comedy — which is about an engaged couple who are determined to get married despite […]
http://www.dailyactor.com/2014/11/conversation-cast-of-nbc-marry-me-casey-wilson-ken-marino/
http://www.dailyactor.com/wp-content/uploads/2012/12/michael-caine.jpg
Michael Caine Talks About Acting With Your Eyes and Does an Amazing Cold Read of a Script
This week acting legend Michael Caine appears in his sixth film directed by Christopher Nolan, Interstellar. In an interview clip from The New York Times that was shot around the release of the last movie Caine worked on with Nolan, The Dark Knight Rises, reporter Melena Ryzik spoke to Caine about his six-decade career. In […]
http://www.dailyactor.com/2014/11/michael-caine-acting-with-your-eyes-cold-read-of-a-script/
http://www.dailyactor.com/wp-content/uploads/2014/11/director-dan-gilroy-narrates-a-s.jpg
Director Dan Gilroy Narrates a Scene from 'Nightcrawler' Featuring Jake Gyllenhaal and Rene Russo
Nightcrawler is easily one of the best movies of the year and its star, Jake Gyllenhaal, is outstanding. Definitely check this out when you have a chance. In the above clip, writer/director Dan Gilroy narrates a sequence from the film that features Gyllenhaal and Rene Russo. He talks about giving Gyllenhaal a small piece of […]
http://www.dailyactor.com/2014/11/director-dan-gilroy-narrates-a-scene-nightcrawler-jake-gyllenhaal-rene-russo/
http://www.dailyactor.com/wp-content/uploads/2014/11/matthew-mcconaughey-talks-losing.png
Matthew McConaughey Talks Losing the Lead Role in 'Bernie' to Jack Black
Though Matthew McConaughey has increased his earned plenty of respect since he started taking on more substantive movie roles in the last few years (with Dallas Buyers Club even earning him an Oscar for Best Actor), one director that always has been a fan of McConaughey is Richard Linklater. Linklater gave McConaughey his first big […]
http://www.dailyactor.com/2014/11/matthew-mcconaughey-talks-losing-the-lead-role-in-bernie-to-jack-black/
http://www.dailyactor.com/wp-content/uploads/2014/11/watch-benedict-cumberbatch-film.jpg
Watch: Benedict Cumberbatch Film the Smaug Motion Capture for 'The Hobbit: The Desolation of Smaug'
Though Peter Jackson's movie adaptations of The Hobbit haven't received the same critical acclaim as his films based on the book's sequel, The Lord of the Rings (turning a 300 page book into 9+ hours of film tends to do that), fans are still eagerly anticipating the release of the final part of The Hobbit […]
http://www.dailyactor.com/2014/11/watch-benedict-cumberbatch-film-smaug-motion-capture-the-hobbit/