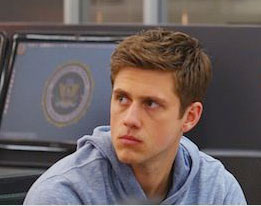 Aaron Tveit is using his incredible Broadway resume to help him land plum roles, most recently in the film version of Les Miserables and the new USA drama, Graceland.  He admits he feels fortunate to have the choice of what type of medium to work in.
"It used to be that you got pigeonholed into one thing—you're either a stage actor or a TV actor or a movie actor," he said in an interview with The Hollywood Reporter.  "Today, there's a lot of crossover with film actors doing television, which never happened before, so those lines are a little bit more blurred than they used to be.  One thing that I wanted to try to do was try to keep my musical stage work separate from my on-screen work at first.  I know I did the Les Mis film, but I had also done a lot of television and movie work that had nothing to do with singing.  I wanted to try and do that first."
In fact, Tveit has appeared on several episodes of Gossip Girl and in the film, Premium Rush.  But before that, he lit up the Broadway stage in productions of Hairspray, Catch Me If You Can, and Next to Normal.  Because of his busy stage schedule, he wasn't available for more long term projects until last year, when he landed the role in Graceland.
"I was in development for so many years with Catch Me if You Can and Next to Normal in New York that it took me out of being able to audition for a serious role on television," he said.  "So I'd spend a lot of time doing guest parts.  This was the first time I was really available for pilot season, and I read the Graceland script very early on—I got it in October of last year and tested for it in November, so I was very lucky that I got this without even doing the whole pilot season thing."
However, even though you can take the theater actor away from the stage, you can never really take away his love for musicals.
"I have to keep practicing [using my voice]," Tveit said.  "I still sing every day—in the shower or on the set all day.  I'm sure everyone will tell you that I never shut up.  But it's not in the capacity I would like to."
Graceland is set to premiere on USA sometime this summer.