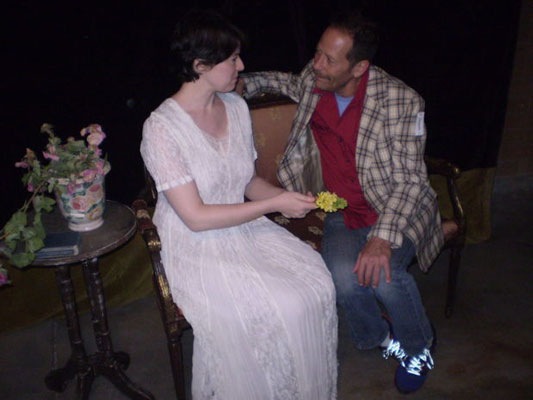 We've covered all kinds of accidental onstage mishaps here at Daily Actor, but aside from the bad old days of Spider-Man: Turn Off the Dark, few of those mishaps wind up with an actor going to the hospital. Unfortunately, Arizona actor Ken Beider joins the list of the laid-up Peter Parkers on the theatrical ER list.
During the Sunday, May 1 performance of playwright Gavin Kayner's The Language of Flowers at the Temple of Music and Art's Cabaret Theatre, Beider's ex-con character was accidentally stabbed in the stomach with a serrated knife while participating in a scripted fight on stage at the end of the first act. While Beider finished the act, an ambulance was called and took him to the hospital. Thankfully, Beider did not sustain any internal injuries and the wound was closed with 12 staples.
Kayner, who also produced and directed the production of his screenplay, was shocked that it happened.  "I'm flabbergasted," he said. "We rehearsed that scene over and over. We thought we had done everything right." Kayner and the production team made the decision to cancel the rest of the performances, which was meant to run through June 14.
Kayner can take solace in the fact that even the greatest artists in theater hurt one another from time to time. Kenneth Branagh accidentally injured a fellow actor with a sword blow during his acclaimed production of Macbeth at the Manchester International Festival in 2013.
via Tucson.com