Paul Dano on How He Prepared to Play Author Nick Flynn in 'Being Flynn'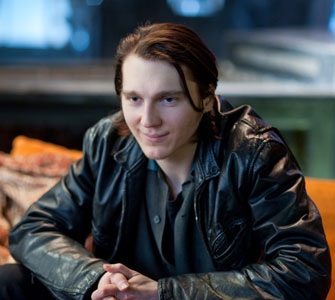 Paul Dano has a lot of expectations tied to his latest big movie role, Being Flynn, the adaptation of Nick Flynn's memoir Another Bullshit Night in Suck City. 
Not only is Dano cast as author Nick Flynn himself, but he is acting opposite Robert De Niro, who plays his con artist father, who Flynn encountered while working at a homeless shelter in Boston.  After being "moved by the script," Dano explains the preparation he underwent in order to play Flynn in the movie.
After reading the script, Dano's next step before meeting Flynn was to purchase Flynn's memoir.  However, he found himself confronted but what could only be called a set-up.  He recalls, "I went to my local bookstore to buy it, and the people at the bookstore said, 'Oh, no, we have a different copy for you.' They brought me out a copy – with a note written in it to me from Nick. I was spooked; how did he know what bookstore I'd visit to buy the book?  Turns out he lives in my neighborhood."
Naturally, once Dano got the part he spent a lot of time with Flynn, but was careful to still imbue the role with his own feeling for the character.  He explains, "As  an  actor,  you  want  to  be  faithful  to  the  material,  but  also  to personalize it, so as we talked a lot and spent more time together, I was able to take what I could from both the script — into which Paul [Weitz, writer/director] had put so many  pieces  of  Nick  —  and  Nick  himself,  and  then  make  my  own contributions to the characterization. I wasn't trying to do an impression."
Still, there was one element of Flynn that heavily influenced Dano's characterization: music.  Dano made sure that he was "listening to music that Nick listened to at the time, which I learned about from either asking him or from reading the memoir. For me, music is an art form that I feel slips into your bloodstream. Hearing it on-set helps me stay focused. I would also listen to music that I found relevant in some way to Nick or his story; I think that Nick has a little bit of a punk rock spirit in him.  The lyrics of songs were useful to me as well, since Nick is also a poet — which I'd guess is even harder than being a novelist or a screenwriter."
There has been some great early praise for Dano, so it seems like all the hard work might pay off for the actor, and Flynn himself has a lot to be proud of.
Being Flynn will be released in theaters on March 2.
Latest Videos
http://www.dailyactor.com/wp-content/uploads/2014/09/audtion-tapes-robin-wright-and-h.jpg
Audition Tapes: Robin Wright and Haley Joel Osment Audition with Tom Hanks for 'Forrest Gump'
Check out Robin Wright auditioning for the role of Jenny from Forest Gump opposite Tom Hanks. Interestingly enough, Hanks doesn't quite have Gump's southern drawl down just yet while the other actors audition with him. In fact, Hanks would base Gump's voice on the voice of Michael Conner Humphreys, who played the young Forrest and […]
http://www.dailyactor.com/2014/09/audtion-tapes-robin-wright-haley-joel-osment-tom-hanks-forrest-gump/
http://www.dailyactor.com/wp-content/uploads/2014/08/bryan-cranston-emmy-award-speech.jpg
Watch: Bryan Cranston's Emmy Award Speech: "I love to act. It is a passion of mine and I will do it until my last breath."
The Emmy Awards weren't the most exciting awards show this year but with Bryan Cranston winning for Outstanding Actor in a Drama for Breaking Bad, we at least got to hear one heck of a fantastic acceptance speech. "I was a kid who always looked for the shortcut," he said. "I did happen to stumble […]
http://www.dailyactor.com/2014/08/watch-bryan-cranston-and-aaron-pauls-emmy-award-speeches/
http://www.dailyactor.com/wp-content/uploads/2014/08/audition-tapes-gerard-butler-aud.jpg
Audition Tapes: Gerard Butler Auditions for 'Dracula 2000′
Check out Gerard Butler auditioning for the role of Dracula in the movie, Dracula 2000. The film, about a group of thieves who break into a chamber expecting to find paintings, but instead find Dracula himself, also starred Christopher Plummer, Jonny Lee Miller and Nathan Fillion. Bulter has some sweet rock star hair, huh?
http://www.dailyactor.com/2014/08/audition-tapes-gerard-butler-dracula-2000/
http://www.dailyactor.com/wp-content/uploads/2014/08/interview-matt-dillon-and-carla.jpg
Interview: Matt Dillon and Carla Gugino Talk 'Wayward Pines'
FOX has a new limited-series that's got a terrific cast and interesting premise. It's called Wayward Pines and stars Matt Dillon, Carla Gugino, Melissa Leo, Toby Jones, Terrance Howard, Juliette Lewis, Tim Griffin and Shannyn Sossamon. The show, whose pilot was directed by M. Night Shyamalan, is about a Secret Service agent (Dillon) goes to […]
http://www.dailyactor.com/2014/08/interview-matt-dillon-carla-gugino-wayward-pines-comic-con/
http://www.dailyactor.com/wp-content/uploads/2014/08/interview-wayward-pines-stars-ti.jpg
Interview: 'Wayward Pines' Stars Tim Griffin and Shannyn Sossamon on the Show, Their Characters and More!
Griffin and Sossamonwere at Comic-Con where they sat in on some roundtable interviews to talk about the show.
http://www.dailyactor.com/2014/08/interview-wayward-pines-stars-tim-griffin-shannyn-sossamon-comic-con/