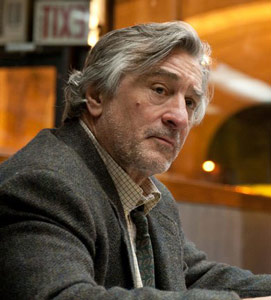 Robert De Niro has rightfully been called one of the best actors of his generation.  But man, it's been a long time since we've seen De Niro in a role that he could really sink his teeth into.  He hasn't been nominated for a major acting award in over a decade, and the last time I heard about him doing his formerly trademark extensive research for a role was… well, 1997, I think.
So it's refreshing to hear that while his latest film, Being Flynn, hasn't garnered the greatest reviews, WENN reveals that De Niro did engage in some research for his role.  He disguised himself with heavy makeup and spent a day in the Boston homeless shelter where Nick Flynn, who wrote the novel Another Bullshit Night in Suck City, which the film was adapted from, worked.  
Curiously, the director, Paul Weitz, reveals that when De Niro was conversing with a staff member about the film, the staff member said,"Oh, maybe Bob De Niro could play me!" without realizing that he was actually speaking to Robert De Niro himself!  Weitz adds, "Bob likes to play real people so he was trying to get a sense of the reality there. In the shelter he observed the people staying there and their body language wasn't downtrodden. They had erect posture and didn't want to appear to be marks and get robbed or beaten up so that's how he appears in the film."
De Niro also spent a day playing a homeless individual on the streets of his native New York City.  Weitz reveals, "I got a weather report that it was going to be snowing the next day and I called Bob up and said, 'How would you feel about getting into costume and trudging around the streets tomorrow if it snows?' So four weeks before shooting I went with him in a car and with a camera guy and we shot Bob walking around different neighbourhoods in his homeless gear.  We chose different places where we hoped people would ignore a huge movie star. So we went down to the Financial District when everyone is arriving at work so they don't give a damn; they'd pretty much run anyone over to get to work."
Could you blame them?  I live in New York and I feel like I see homeless people who look like Robert De Niro every day.