Director Max Winkler on his feature debut, 'Ceremony'
Podcast: Play in new window | Download (Duration: 8:19 — 5.7MB)
Max Winkler – yup, Henry's son – has made his feature-length directorial debut with the coming of-age story, Ceremony.
If you're a fan of the web-series, Clark and Michael (starring his friends Michael Cera and Clark Duke) you already know Winkler's work. Ceremony, which he also wrote, follows Sam (Michael Angarano) on a quest to stop a former fling (Uma Thurman) from marrying a worldly filmmaker (Lee Pace).
I talked with Max right before SXSW about the film, how he got the cast and tells me a funny bit of advice his dad gave him.
Where did the idea for this movie come from?
Max Winkler: Well, the idea of the movie probably came from a lot of places. It was pretty personal movie that I wrote, and I thought that would be sort of a good way to make my first film to sort of ensure that I feel very close to it and at the same time sort of have all the answers to any questions anyone may have. And also I was just sort of  waiting around for other movies to come around that I was hoping that I could direct and I felt like while I have a second I should take the time and write something that I can probably really relate to.
You got Uma Thurman, Lee Pace, and you got Michael Aragano. This being your first film how did you get this cast?
Max Winkler: Because the script was so personal to me, I think people could probably find parts that they related in to it, 'cause I wrote it from such an emotional place. I just had really good conversations with all of them and I felt so lucky that I got to have all these people come and make this movie with me.
Let's go to the casting of Michael, he was originally cast as the best friend? And then Jessie Eisenberg dropped out and you decided to go with Michael, how did that happen? How did you decide to make that choice?
Max Winkler: Michael had been rehearsing the part for so long with Jesse and I. Just sort of having dinner together and reading the script around my dining room table. Michael really got sort of first hand practice at both characters. And when the time came when scheduling stuff happened and Jessie had to leave, we started to sort of search around everywhere, but before we really did it I just said "Mike do you just want try it and see how it feels, we'll do it." We recorded just Michael reading through the bedroom scene with Uma, with me playing Uma, in the office in LA. And I sent it to the producers, I think it became incredibly clear to everyone that like, we just really sort of figured out what our movies was.


You shot this where everyone lived on location? How did that work out?
Max Winkler: We had dinner together every night and we talked about the days work and we ripped through the pages from the next day, and it was a really sort of, I couldn't have ask for a better experience. I think we all really sort of loved it.
If any of the other actors want to say something else or re-work their lines, were you ok with that?
Max Winkler: Yeah very much. A lot of the actors I had on set came from a writing place and they think like writers. I think one of the best lessons I could have learned very quickly was whoever has the best idea, go with it and don't get to caught up in obsessing over the minutia of details, the way it wind of it in the script. Michael comes from such an emotional place as an actor, comes from place where he could really relate, that sometimes if the lines weren't exactly the way they were written it ended up being better.
With the casting process on some of the smaller roles, how may people would you see?
Max Winkler: We see a lot of people, I mean we really search for the right person for the character like Brooke Bloom who would play Margaret, the woman, the girl that Michael sort of romances at that party scene. I mean, we saw her, she was one of the first people to come in and I immediately knew we would cast her. Same thing with the woman who plays Esme(?). For Teddy's character, Jake Johnson, he's an actor that I worked with for my first stuff on the web. A web series with Michael Cera and Clark Duke. I met him there and since then I've set my mind on the fact that I need to work with him on everything I ever do 'cause he's such a terrific actor and collaborator and real partner of mine and kind of a muse in some ways.
Lee Pace, we saw a lot of people but I'd known that I always wanted Lee Pace to play that part. I'd see him in that Tarsem movie "The Fall", there's just an old-timey movie star quality to Lee Pace that is pretty rare these days I think.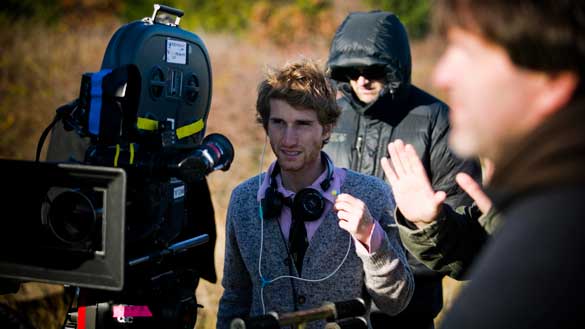 With who your dad is [Henry Winkler] is, did you ever think about acting?
Max Winkler: Yeah, I did. I acted a little bit when I was a kid but I was really always kind of terrible at it, I really wanted to be good at it. It seemed like a great job but I really am like too self-conscious and too self-aware I think to act.
Your dad's also a director, did he give you any tips or advice?
Max Winkler: No, I mean I learn from a very early stage. I would always sort of cast him in my short films and stuff. I learned that a very early stage how to and how not to talk to an actor. A very firm instruction from my father who's a very nice man, but I remember once I was yelling at him on the set, not yelling at him, but I was talking to him on the set of a short film that we were making and I was saying that I wanted him to learn his lines, and he hadn't learned his lines. And then he grabbed me by the collar and said "Don't you ever yell on an actor when someone has a boom mic sitting close to you." And I remember that very clearly. (Laughing) But he's always around for questions and concerns and thoughts, but you end up having to do most of the stuff by yourself as you go on the set.
What's a bit of advice you can give to actors?
Max Winkler: Just to believe in themselves. I mean I watched them in awe. I love actors. I think it can happen to any age and it can happen at any point and just to be persistent. That's the way I have always been with writing and directing. Just worked every day and that just keeps me from going insane.
Latest Videos
http://www.dailyactor.com/wp-content/uploads/2014/04/director-david-gordon-greene-nar.jpg
Director David Gordon Green Narrates a Scene From 'Joe'
Director David Gordon Green narrates a sequence from his new film, Joe, featuring Nicolas Cage and Tye Sheridan. In the video, he mentions his reasons why he likes to hire non-traditional actors. He likes people who have real skill-sets and not actors who have the skills on their resume. He also talked about this in […]
http://www.dailyactor.com/2014/04/director-david-gordon-green-narrates-a-scene-from-joe/
http://www.dailyactor.com/wp-content/uploads/2014/04/david-gordon-green-joe.jpg
Director David Gordon Green: "I find actors in unusual places"
I keep missing screenings of director David Gordon Greene's new film, Joe. I hear it's really good so I'm looking forward to catching it at some point. Joe stars Nicholas Cage as ex-con Joe Ransom, who isn't the greatest of role models until he meets a 15-year-old boy (Mud's Tye Sheridan). In this featurette, Green […]
http://www.dailyactor.com/2014/04/director-david-gordon-green-i-find-actors-in-unusual-places/
http://www.dailyactor.com/wp-content/uploads/2014/04/judy-greer-i-dont-know-why-you-know-me-from.jpg
Please Don't Say These Things To Judy Greer (video)
Judy Greer - who we love here at Daily Actor – has a new book called, I Don't Know What You Know Me From (Confessions of a Co-Star), a series of essays about her life as an actress, friend and someone who everyone thinks they might know. Here's a blurb about the book: "Want to […]
http://www.dailyactor.com/2014/04/please-dont-say-these-things-to-judy-greer-video/
http://www.dailyactor.com/wp-content/uploads/2014/04/Captain-America-SamuelNick-Fury.jpg
How Samuel L. Jackson Learns His Lines for the Marvel Movies (video)
Samuel L. Jackson stopped by Good Morning America earlier this week to talk about Captain America: The Winter Soldier – which is terrific, by the way – and he told Robin Roberts that for the first Cap film, he had trouble learning his lines. "I sat at home and I did all my studying, and […]
http://www.dailyactor.com/2014/04/how-samuel-l-jackson-learns-his-lines-for-the-marvel-movies-video/
http://www.dailyactor.com/wp-content/uploads/2014/04/andy-karl-margot-seibert-rocky.jpg
Andy Karl and Margo Seibert Talk 'Rocky: The Musical' on 'Today'
Andy Karl and Margo Seibert, the stars of Rocky: The Musical, talked to Today's Matt Lauer about the new Broadway musical. Karl talks about the final fight and taking on the iconic role. This is Seibert's Broadway debut and she's asked about her callbacks (9 in all!) and more. Check it out!
http://www.dailyactor.com/2014/04/andy-karl-and-margo-seibert-talk-rocky-the-musical-on-today/