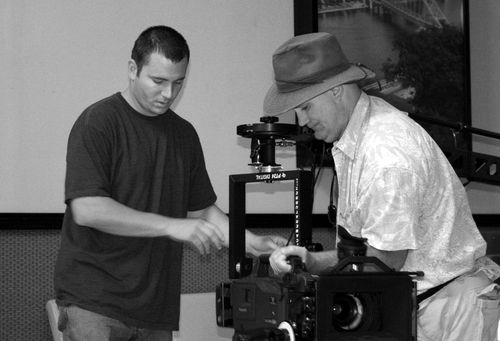 While a film director may have a general idea of how a scene should look, it is the responsibility of a cinematographer to make it happen. They are the ones who frame each shot according to the script and the director's personal vision.
With over 20 years in the film industry, Thomas McKenney has had a lot of experience. He knows what looks good, what looks bad and what is an absolute work of art. He's worked with Angelina Jolie, Tom Cruise and Dustin Hoffman to name a few.  It doesn't matter if he's worked with big names or with indie productions he offers a cinematographers perspective on what makes a good actor.
First lets start with something easy – You won an Emmy!  What for?
After a few nominations, I got it for a mini-documentary that I did on pre-Rose Parade coverage.  I shot two WWII Air Men, walking the interior of a mock up of their plane.
Interesting story, we arrived at Chino Airport, California–normally an arid climate–it was raining. The producer lamented that we'd have to do the interview inside an office.  I jumped up and said that the rain was perfect, and as they still fit into their old uniforms, I put them and my camera under a wing of the aircraft. The look and sound of the rain "put" them back in time in England waiting for the European Invasion.
How can an actor help the cinematographer get the shot they need?
There is a variety of ways they can do this. First, you should know that there is a big pressure on everyone to work fast and get the shot. Collaboration is key, help me, help you.
Real life happens but getting yourself to the set on time, prepared with a good attitude is key. You never get a second chance to make a first impression.
An actor should always come prepared to the set. Be professional. An actor needs to realize that we are all on the same team and that we are all working towards the same goal.
Also, an actor should know their lines and havinga sense of feeling their mark or how to hit it. From a cinematographer's perspective, if they know how to use the light and work with it then it makes our job easier.
How does an actor learn to do this?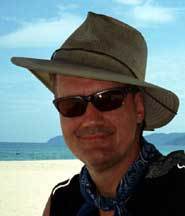 You need to be more alert to your surroundings. For example, if you watch a drivers face while you are sitting in the passenger's seat you can see light passes over the face when they pass a tree or building. If an actor understands how light changes then they can work with it.  Eventually, you can feel the light on your face.
Here's a great tip for exterior shots.  If a light is shinning in your face and you feel like you are squinting, close your eyes tight for 30 seconds and stare at the sun, then open your eyes where the director has you looking – you will find that this is much easier as your pupils have constricted.
How do actors get hired again just from their attitude on set?
"How you show up is how you show up."  If you show up prepared and are professional then often you will be asked back, if not on this production, on another. People talk in this business and someone will talk to someone else and say how great you were. The industry is small and I've heard that casting agents talk to each other about good actors and bad.
On the flip side, there are those that get hired beyond that because they are great at inhabiting the character, their attitude might be difficult but they nail the role. I wouldn't count on this starting out, however. I remember one actor that didn't know his lines on set. He was too busy networking for his next role, As much as I didn't like him, we found his talent in the editing. He actually gave the production a lot to work with. If I were ever to hire him for another my projects, I'd have a talk with him. though I'm undecided as to whether to hire him again.
What does a veteran actor do on set that sets them apart from the rest?
The really great ones make you think that you could do what they are doing. That's how good they are. They raise the bar for everyone involved.
How should an actor treat the crew while working on set?
With courtesy and respect. if you give that it will be returned.
How do some big named actors treat the crew?
Tom Hanks is great; he's known for getting coffee for people that are busy when he has time. The A-listers are confident in what they do, so they don't need to prove anything. Think of Martial Arts Black Belts. They have nothing to prove. They make me want to bring my A game.
When Tom Cruise shows up, he goes around and gives everyone his or her moment. He talks to everyone on set. He gives a firm handshake, that sudden look in the eye and easy smile.
One thing these people do is take charge of the room – it's charisma, I don't know if that can be taught.
Do you find that sometimes actors aren't respectful?
Not intentionally.  I had an actor/producer that was watching performances instead of getting his make-up done, the crew lost time because of this. That can be frustrating.
If an actor /crew is having a problem, talk it out privately and move on. Once the scene or the shoot is over its nice to say thanks and nice working with you. We all hope to work together again.
Appreciating what goes with any collaborative process, things will go wrong, it is how we handle things then separates the pros from the rest. How do you react in bad situation is key. Do you roll your eyes and pout? Or go off to craft services? Or do you stay there and get it done?
Are there any actors that you have worked with that were easy to shoot? Why?
There are a lot of good ones. Dustin Hoffman is awesome–and I don't use that word lightly. He always gives a bit extra. He gets to know the crew because he already knows his character and pays attention to those around him. He is a team player and fun to be with.
What other advice can your offer?
The slower you go the faster you get there. Take your time to get it right the first time. If we are shooting on film it can be quite expensive, we don't have the luxury to have a rolling tape.  You need to be prepared and patient with the process.
What are you doing right now to prepare for the next gig? If you can, donate your time to indie projects; do things to keep your chops up.  As "a writer writes" so an actor acts.
You have an audience that has tuned in or logged on to your performance. The people that really succeed in this business understand that they owe this to the audience.   Above all, my mantra is 'serve the story.'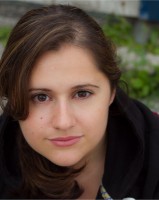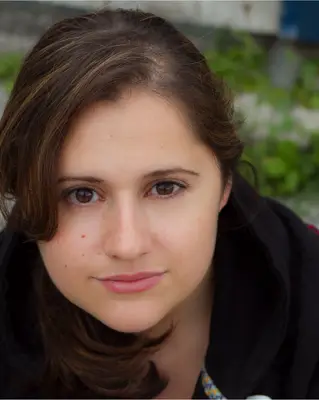 Sofia Gian, does one thing each day to reach her goal of living her dream.  In this process she interviews industry professionals and learns tricks and tips which actors can use to move their careers forward. Follow her daily quest on www.actressconfessions.typepad.com