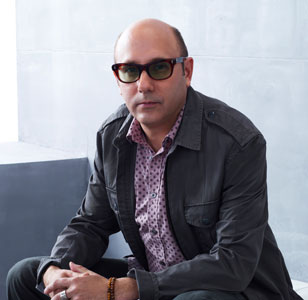 USA's White Collar returns for its fourth season tonight with Neal Caffrey (Matt Bomer) and Mozzie (Wille Garson) hiding out on a remote island from a bounty hunter who wants nothing more than to lock up Bomer's character.
The show is a perfect summertime escapade and even more so now that the first couple episodes are set on an exotic island. Even with the beautiful locale, Willie Garson told me in a conference call, "It's like we could shoot anywhere. It doesn't matter. As long as we are in character talking to each other it's like it all seems perfectly natural because the characters are so well drawn."
In this Q & A, Garson talks about discovering new things about Mozzie, filming out of the country and his (hopefully) upcoming directorial debut.
White Collar airs on Tuesdays at 9/8c on USA
Can you talk about some of the guest stars we're going to get to see this season?
Willie Garson: Do they really matter besides me. No, I'm kidding. You know, we have – well right out of the gate we have Mekhi Phifer who's really amazing. And who we're working with right now is Treat Williams which is very exciting.
I'm trying to think who's in this episode, Titus Welliver is in the episode we're shooting right now. We always have such an embarrassment of riches on this show with our guest stars. Certainly the people we've had in the past too like, you know, Beau Bridges and Griffin Dunne, Aidan Quinn.
I mean Andrew McCarthy, I mean it goes on and on. We just – we get really good people want to do the show and that's a real compliment to us.
Certainly not so much to the show but certainly to the actors because that's – I know myself, when I'm asked to guest on a show it's always about well what are the actors on the show that I want to work with. So it's really – it's quite a compliment when they come and play with us.
What have you discovered about Mozzie now that you really didn't know about him in season one?
Willie Garson: I think I discovered more about the character in terms of how important his connection to people would become. Mozzie seems like someone who didn't need anyone around or to need to be with people. And Neal has really brought him out of his shell in New York.
And now Mozzie actually has relationships that are actually important to him. And that's something that I certainly didn't see on the page when I started the show so that's been really interesting.
And even more so this year, how much when we're out of the country and then what brings us back to New York, how important things, you know, human relationships are to Mozzie. So that's going to be interesting to watch.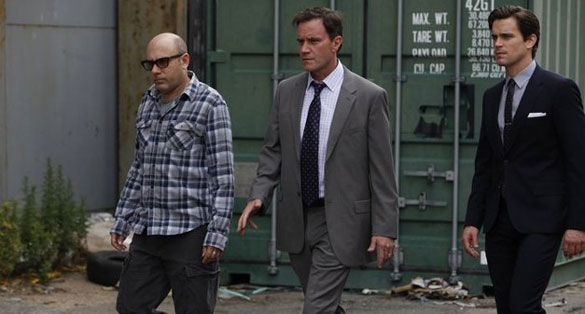 How hard was it to stay in character in such a beautiful location?
Willie Garson: Well this is not the hardest character I have to say, for me to play mainly because he's the closest to myself with my, you know, my same kind of wit and feelings about a lot of things but also because the writing is so perfectly geared to our characters.
So there's not a lot of heavy lifting once we actually get there saying it. It was actually just really fun.
You know, this show – the characters are structured so well that on this show we found in the first season, I think it was about episode five where we all called each other up after it aired and we were like you know what?
These characters are so well drawn and so perfectly complementary to each other, we could be solving the case of the missing Scotch tape on the North Pole and we'd be fine. And that's really – that really came through when we, you know, left the mainland to go shoot this.
It's like we could shoot anywhere. It doesn't matter. As long as we are in character talking to each other it's like it all seems perfectly natural because the characters are so well drawn.
What is the atmosphere on the set? What's it like to work with all of these great actors is what I was trying to say.
Willie Garson: I mean, you know, I mean every show says this but I've been on shows where this is not true and I've said it. But on this show it is true. It's, you know, it's really fun.
We work, you know, when people work on television shows you're spending more time with these people than you're spending with your family. And if it's not fun or not satisfying to be with them then it really can be quite a miserable job.
So we try and – we all are very good friends and we try and keep each other entertained and plugged in and help each other out in the scenes. We really do all have each other's backs. And that's, you know, me and Matt and Tim and Sharif and Marsha and Tiffani and Diahann and Hilarie.
You know, we all are very close and you can throw any of us into a scene together and we have our own personal jokes with each other, our own personal songs that we sing to each other and on and on. You know, it's not – it's such a cliché for actors to say but it becomes a family.
And this is mine now, in this case because we have been through a lot and we're getting this glory of a long run. We've been through so much together, you know, deaths and births and marriages and, you know, it becomes the fabric of your life.
Do you like the twists that your character has taken?
Willie Garson: Well I always like it when it's interesting. You know? I never can guess what's going to happen. And we don't get our scripts until like, you know, two days before we start shooting each episode so we never know. And that's what I like. I like that I don't know.
A lot of actors like to know so far in advance but, you know, I'm – maybe I'm not that good of an actor or it's just my style of acting. In life we don't know what's coming so I'd like to not know what's coming. It keeps it interesting for me.
You're filming out of New York. Can you talk about filming in Puerto Rico and just kind of about the experience?
Willie Garson: Yeah. I mean it was really hard. I'll tell you the hardest thing about it was that Puerto Rico is a nighttime culture. And the reason we were shooting there is to get as much sunlight and daylight as possible. So we were working, you know, like 6:00 am every day to get the sunlight.
And then they don't eat dinner and stuff until 9:00 or 10:00 at night. So that was really hard. So we were basically in a coma the whole time of tiredness. But, you know, it was fantastic. The local crew was amazing that came and that worked with our crew.
And all the people were – that we came across were great and very accommodating and, you know, it's amazing that every time I'm in Puerto Rico I'm amazed that it's part of the US. It's so amazing and, you know, it's a beautiful Caribbean destination.
Which do you prefer more, the dramatic scenes or the comedic scenes?
Willie Garson: Yeah, they both have their benefits I'd have to say. You know, if you're known as that – as a comic actor where comedy comes easy every comic actor will say well I love doing a dramatic scene because I finally feel like I'm acting.
Major dramatic actors will always say oh I love doing a comedic scene because I really feel like I'm acting. So I like them both I have to say because I'm known kind of for being funny. I love when I get to do something dramatic.
I do a scene in this season that's probably the most dramatic scene I've done on this series. And it just felt great. I loved doing it. And on this show I actually wish I had a little bit more of the drama to do and that I'm not always the go to guy for a laugh.
So it was very satisfying. That'll be coming up in one of the first few episodes.
Would you ever be interested in working behind the scenes on the show like writing or directing or something?
Willie Garson: I would. And I will be directing if we get to go on next season. I – if we're fortunate enough to get picked up I will be directing next year. So that's something we've been talking about for a long time. And I've been preparing so I think I'm ready after – after almost 30 years I think I'm ready to give it a shot.
What do you think you'll bring to the director's table as an actor?
Willie Garson: Liquor. No, what do I bring? You know, I bring 25 years of standing on sets and story and acting stuff. Our crew is so advanced that the camera stuff, I'm not going to – I'm certainly not going to change the wheel.
But I am going to bring a lot of humanity into the scenes which is something that I know how to do like no problem. So that's my angle is what I'm going to bring in, performances and humanity.
Is there anything that you feel might challenge you or bring a little bit of trepidation to taking on the reins of directing White Collar or do you think that no, you've got this, you can handle it?
Willie Garson: You know, camera and angles and time. You know, we shoot a full episode in seven days and that's – that can be very quick. Some of our scripts are close to 80 pages long. So we're talking about 11 pages a day so the time is the only thing I'm afraid of because I don't know much about technical stuff.
But I'm learning it rapidly about camera. It's just in terms of can I get everything I need to get in the amount of time I have?