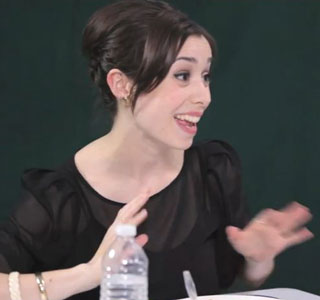 If you've never seen the new YouTube show Cool Kids' Table, it features two stereotypically obnoxious high school girls, Kenzie and Blake, sitting in the cafeteria as they interview celebrities in a very condescending way. Although it's a lot of schtick, it does have its moments.
This one, with Once's Cristin Milioti, definitely has its moments, particularly when Milioti defends "theater geeks" and the girls mistake fellow Broadway star (and fellow Tony nominee) Kelli O'Hara for the girl "who was at the Hollister in the mall." 
Check out the video below. 
And of course, you can see Cristin Milioti in more serious circumstances on Broadway in the Tony Award-winning musical Once: