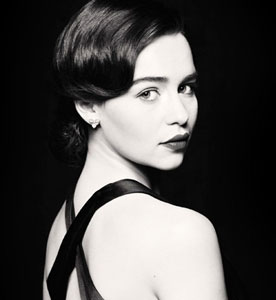 Emilia Clarke, star of Game of Thrones, understands that people might be expecting a lot out of her portrayal of Holly Golightly in the new Broadway adaptation of Breakfast at Tiffany's.
"There's not much I can do about all the people who come in and hope for Audrey Hepburn," she said in an interview with The New York Times.  "I just hope they're not terribly disappointed."
Clarke understands that people are bound to compare her to Hepburn's portrayal in the 1961 film version.  So, she's not pressuring herself to imitate the legend's performance.  "What you're seeing up there is perfection, and you can't mimic or copy perfection," she said.  "You can take that and add it to your inspiration board, but then you want to go to the source, the novella, and break that down to its most finite part, which is that Holly is a girl who's a product of the Great Depression, the great drought.  You start there, attempting to understand her world, and then you realize that the stakes were so high for her because she has to stay mysterious, and the only way she can do that is by keeping on running."
The actress might seem an unlikely choice for the iconic part (being from England.)  But despite some initial nerves, Clarke has been more than eager to take on the role.  "The first day of rehearsal I looked out and suddenly felt very sick," she admitted.  "But then Dr. Theater kicked in, and mostly it's been joy, joy, joy."
Clarke has had an interesting journey leading up until now, often benefitting from what she calls "the mystery that is luck."  She was rejected by the Royal Academy of Dramatic Art in 2005, and she ultimately ended up as a student at the Drama Center London.
"There were a lot of beautiful, blond, gorgeous girls in my year who got the Juliets and the like," Clarke said.  "I got the Jewish grandmothers and all the farcical parts, which was actually really, really good because it made me aware of my capabilities as an actor."
After what she deems a "very depressing year," Clarke got an audition for the role of Daenerys Targaryen in HBO's epic series, Game of Thrones.  "I had never heard of the books," she said, "and so I spent 48 frantic hours Wikipedia-ing."
At her audition, she received two scenes in the first season where her character first stands up to her vicious brother and when she arrives at the funeral pyre of her husband.  "This is going to sound odd or bizarre," she said.  "But just from those few lines I felt I understood the character.  She's a young girl trying to do good and to realize her own capabilities."
Clarke has starred in the series first two seasons (with her character's signature bleach blonde hair), and garnered many fans for her portrayal of the Queen of the Dragons.
The Game of Thrones third season will premiere March 31 on HBO, and Breakfast at Tiffany's will open at the Cort Theater on March 20.