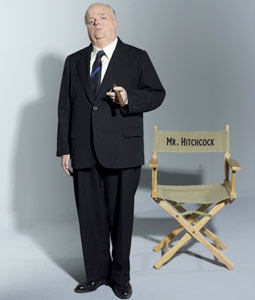 Here are the first look pictures of Toby Jones and Sienna Miller as Alfred Hitchcock and Tippi Hedren in the upcoming HBO Film, The Girl.
The Girl is directed by Julian Jarrold (Becoming Jane, Brideshead Revisited) and also stars Imelda Staunton as Hitchcock's wife Alma, and Penelope Wilton as his production assistant Peggy Robertson.
Jones told TVLine that Hitchcock "knew every single aspect of filmmaking, and I think he thought, 'Well, I'll just make her into a good enough actress. She has limitations as an actress, but I'm so able and so practical that I will be able to transform her to my needs.'"
The Girl premieres on HBO on October 20th.