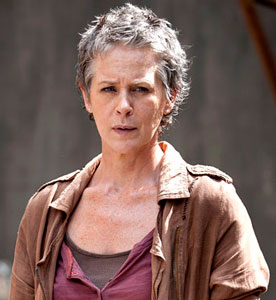 Warning: Spoilers Ahead
Melissa McBride is one of The Walking Dead's strongest female characters on the AMC series. However, last week's shocking plot turn made a lot of fans worry about the actress' character Carol. Will she return or is Carol done for good?
With Carol admitting to Rick that she had killed David and Karen to prevent the illness from spreading, Rick decided she couldn't be trusted and banished her. While viewers are left with a big question mark as to her fate, IMDb's episode listings indicate that McBride definitely has some life left in her character.
The 48-year-old actress talked with Vulture about whether Carol is really gone.
She said, "Well, you know, it was certainly a possibility when I read the script. Nobody said one way or another what happens after this. That's kind of the way they roll. If you don't see them die on camera, there's a possibility they could come back. Then again, when you do see them die on camera, some of them still come back."
The fate of any role is important to an actor's livelihood, especially when they are on a series where death is predominate. McBride shared how much she actually knew about what was happening to Carol.
"Yeah, certainly, but not in as much detail as the script itself did. I don't ask a whole lot of questions," she said. "If there's something really, really bothering me about a script then I'll say something, but otherwise I find my answers in the script. I trust the writing, and the writers to know these characters."
If she is written off the show, McBride seems to have a healthy attitude about the entire situation.
The AMC star explained, "My brain doesn't think in those terms. It just doesn't go there. And again, I trust the writers. I trust [showrunner] Scott Gimple. And I have faith in myself. I'll be okay. This was a great run and a fascinating character."