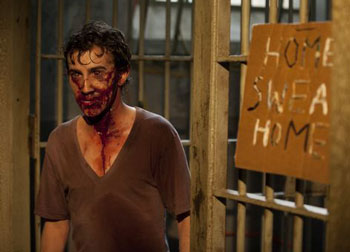 Being that The Walking Dead is about a post-apocalyptic world invested with flesh-eating zombies, there are many opportunities for actors to get bit parts as zombies.  However, actor Vincent Martella was able to get the full monty: he starred as human Sweet Patrick in the season premiere and quickly succumbed to an unknown illness that turned him into one of the Walkers. And though he tells Today he's not going to spoil anything about upcoming episodes, he does admit that the hardest thing about being on the show is trying to realistically portraying making lunch out of a human.
Though Martella has not had a long stint on the series, he points out that he was able to experience all the elements that make the series great.  He explains, "I was actually really excited that I got to play a Walker. It's not something everyone gets to do on The Walking Dead. A lot of people were telling me how lucky I was that I got to do everything people want to do on The Walking Dead. They want to have a part that's good and establishes itself and they want to die in a really cool way and then come back as a Walker and then die again in a really cool way as a Walker. I got all those things on my brief time on The Walking Dead."
The first day Martella was on set involved a scene with dozens of Walkers, and he says it was exhilarating as both an actor and a fan of the show.  He reveals, "It was surreal.  I thought to myself, 'This is the closest I'm ever going to get to a zombie apocalypse probably.' It looks super real. You have these amazingly well-done Walkers five feet from you. There's really nothing like it."
However, Martella says there is one difficult part of appearing on the show as a Walker: pretending to eat people. Martella confesses, "I mean the walk is a little hard to do because it's very specific. But then when you eat someone you have to look like an animal devouring prey. You can't look like you have any specific motive or where you're going to take a bite. You're just blindly eating prey. That's something that I wanted to get right, making it look very animalistic and not human at all. I wasn't making choices a human would make."
I don't know, considering the table manners of some people I see around town I figure it wouldn't be hard to emulate at all!