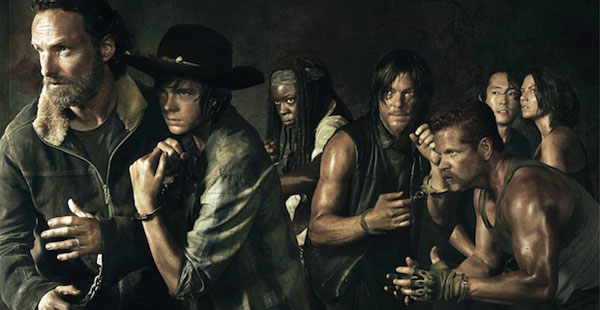 The Walking Dead has changed things up a bit this season. The cast finally has the needed diversity it was missing from the first four seasons. Casting director Sharon Bialy shared her thoughts on the hit zombie show.
Bialy dished about what goes on behind the scenes, "Everybody reads on The Walking Dead. This way the writers can see what they bring to the audition and start to think about how they want to write for that character later on, 'cause they've already heard the voice in their head and how they handle the language. It really illuminates the role for [the writers] when they see it."
The casting director also mentioned that actors will audition for one role and sometimes get cast later on in the series.
She said, "We do have so many wonderful actors coming in that what happens is [showrunner] Scott Gimple will say, Okay, remember him for… and then he'll mention a role in a future episode. When we were doing the pilot and Lennie James got the Morgan role, we had actors telling us, 'I want to be Tyreese.' And Tyreese wasn't in the pilot or even the first year. We were able to keep track of certain actors and who might be right later. Chad Coleman read on the pilot for the Morgan role and I took notes to remember him for Tyreese."
Bialy also discussed the fact that every character is discussed at length before the casting process even begins.
"Before we start casting anything, we have very long concept calls to discuss the roles and ideas and prototypes. Scott and the writers will talk about character specifics and where the character's going, like somebody who's not in the comic books," she said. "Our job as casting directors is to remember the actors that we meet all through the years and keep track of certain distinguishing characteristics and be able to plug it in. We try to not pigeonhole actors and that's the way we can do the most creative casting."
Casting the AMC show also steps outside the stereotypes, too.
"Sometimes it's really fun to exploit characteristics of an actor that aren't necessarily evident. You look at Chad Coleman and he's big and he's tough, but he's a sweetheart. So I think that we take particular care in the casting of every character on the show and what we do is really speak with the showrunners to see where the character's going to make sure that the actor has the range to go there. Oftentimes in the initial audition, you're only showing one piece of the character. We spend a lot of time with them during the audition," Bialy explained.
While every actor is excited to be on the show, they should never expect a long life on the series. Bialy informed that a character's lifeline is know ahead of time, "We are aware of it and it's all very confidential."
As for the actors knowing their fate, Bialy laughed, "Sometimes they do. Sometimes they don't. When someone is being added as a series regular, then they don't know how long it'll be. If you're only being cast for two or three episodes, then you have an idea of what might happen to you."
Via Jezebel