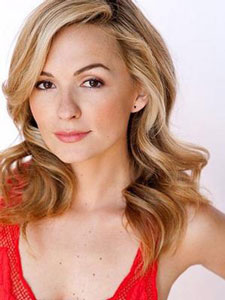 One of the most iconic series from HBO's slate of shows over the years has been Sex and the City. When the CW decided to do a prequel to the popular Sarah Jessica Parker show, some fans were concerned over who would play Carrie, Miranda, Charlotte, and Samantha in The Carrie Diaries.
While the provocative role of Samantha Jones wouldn't come into play until Season 2, Lindsey Gort was prepared to step into character after being a longtime fan of the series.
The 29-year-old Arizona native said, "I was living with three other girls [in New York City], and we would watch Sex and the City every week obsessively. I always considered myself more of a Samantha. I've never been afraid to speak my mind."
Getting the role wasn't that easy though. Gort was in the running for the part, but the producers originally wanted a recognizable name.
"It was horrible," she said. "It's pretty typical for an actor, the rejection. It was between me and three other girls, and I found out they were holding out for a bigger name."
It took two other actresses to back out before Gort signed the contract.
With the role of Samantha Jones fans are going to expect some sexuality and nudity, but with the series on network television, the suggestive situations are a lot tamer than the HBO show.
"There are certain things you just can't show [on The CW], but they're implied. I feel nude when I'm shooting, not wearing much more than underwear and pasties, but there's definitely a lot of sexuality this season. I'm teaching everybody the ropes," said the young star.
Gort even received good wishes from the original Samantha Jones played by Kim Cattrall who tweeted out her support. Even with everything going Gort's way, there is one thing she isn't enjoying as much.
She quipped, "After filming for 15 hours a day in the same pair of heels. I definitely won't be wearing heels as often when I'm not on set."
Via New York Post