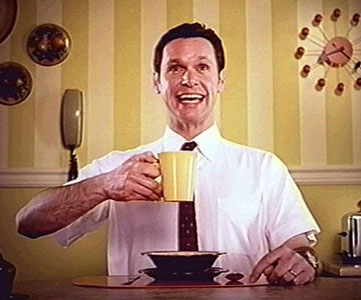 An article in Advertising Age asks a question worthy of debate: Can an actor be in too many ads? 
Most little-known actors would see nothing wrong with a steady stream of paying commercial gigs.  But if an actor becomes a familiar face by appearing in commercials for too many products, there is a good chance that the overexposure will hurt both the actor and the advertisement's pitch. 
Not only would audiences potentially become used to seeing the actor as a pitchman (or pitchwoman) rather than an actor ("Hey, it's the guy from the Cheerios commercial!  What's he doing next to Tom Hanks?") but audiences seeing a repeat actor in a commercial might spend time focusing on where they've seen that face before rather than on the product that's being pitched.
Of course, there are also problems if the actor is recognized as appearing in two different ad campaigns that perhaps shouldn't be linked.  Though not exactly what you want to think about, RPA Group Creative Director Jason Sperling brings up a potential dilemma by pointing out, "If an actor had irritable bowel syndrome in one spot, then how would it affect how I look at his other [commercial] for Del Taco?"
Part of the issue arises from directors and casting directors who end up relying on actors that they feel comfortable working with.  While that's not normally an issue — nobody complained when Martin Scorsese made eight movies starring Robert DeNiro — but it could become an issue in advertising.  Director Matt Aselton filmed national commercials for Toyota, Walmart, eBay and Dish Network that all featured actress Allyn Rachel (who has appeared this year in several episodes of Weeds as Monica).  Aselton doesn't seem to think that's an issue, saying, "It's hard to find the awesome people.  And if I find them, I pretty much consider them part of the troupe." Other directors claim that a lack of talented, versatile actors who are willing to do commercials are the reason why familiar faces keep popping up.
Still, Sperling isn't ready to concede that it's a good move for advertisers to look for a familiar commercial actor.  He uses the example of an actor who recently appeared in a commercial for Tampax with his agency, saying, "If Tampax man tells me that I should drink Mountain Dew in two weeks, I wouldn't buy it."