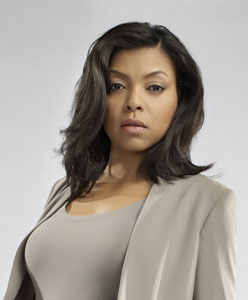 Taraji P. Henson isn't an actress whose name is instantly recognizable for most people despite its uniqueness. 
Chances are, however, that you've seen Henson in a variety of film roles, including Hustle & Flow, The Curious Case of Benjamin Button, Four Brothers, and the recent Karate Kid remake.  In addition, Henson has appeared on television, including a lengthy run on Boston Legal, and is currently playing Detective Joss Carter on Person of Interest. 
In an interview with The Huffington Post, Henson reflects on her career so fair but, of course, looks forward to the future.
Henson has quickly embraced her diverse career.  She claims, "I'm just getting started. I still haven't done theater yet. It's funny, my audience is a wide range of people: Kids from Karate Kid, and then I have a mature crowd from Benjamin Button. I have a cult following because of Baby Boy, my very first film. They play it a lot on the channels that play videos. It's a really interesting mix and I love it."  Even though Henson has appeared in a variety of roles, there are some roles that Henson, as an African-American, fears she will never be cast in.  Still, her experience on Person of Interest gives her hope that this won't hold her back, explaining, "I think one day I'm going to meet that producer who's thinking outside of the box, like [Person of Interest executive producers] J.J. Abrams and Jonathan Nolan did. This is a three-person cast. They didn't have to go black, you know what I mean? I'm just going to continue to focus on my craft and I've got to know that there are people out there that think like most people do."
Nevertheless, despite remaining very busy Henson admits that she is always concerned about what her next role will be.  "Every actor — I don't care how long they've been in the business — worries. That fear of 'When is the phone going to stop ringing?' But I don't suspect it will ever stop ringing. I'm going to be like Betty White. I'm going to work for as long as I want to."
Person of Interest airs Thursday nights on CBS.