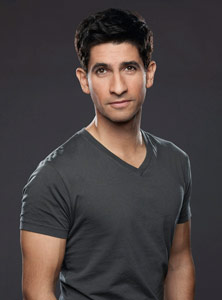 "There's an awful lot of truth to it, there really is," Raza Jaffrey recently told The Wall Street Journal about the new musical series Smash. 
Jaffrey, who plays Katherine McPhee's very likeable on screen boyfriend, Dev Sundaram,  has plenty of experience when it comes to both Broadway and his latest role in the TV series that follows the glam, glitz, and the downfalls of working in theater.  "I did Bombay Dreams on stage in London, a year's worth of auditions and workshops for that, there's an awful lot of similarities to when a musical is starting. They've done a great job making that stuff accurate." 
And since Broadway is at the core of Smash's storyline, it has to be believable.  "When I first got the script, a year or more ago, a lot of people in the industry were cynical, "Would this show be too niche?" "How would you draw out a story about a small set of people in the entertainment community?" "In the Broadway community?" It's a small group. I think "Smash" is obviously an ode to New York and an ode to Broadway, but it is about bigger things and human relationships. Everyone knows what it's like to strive for things and want things."
There is an obvious difference between the two, Jaffrey explained.  "It's very different working on stage to film, the immediacy is there on stage. We made the pilot a year ago, and it's taken this long for all of you to see it, by the time your performance is out there it's been edited and it's in context. On stage, you're out there doing it on your own and you're wholly responsible for carrying out what you're doing at that moment. The intensity and energy is different on stage, you come together for 3 weeks rehearsal and you do it for maybe a year, for a show you're together for a longer period of time. What links the two together for me, I've always been lucky on stage to be around who are "out to play"– actors who are alive, and I've been so lucky on Smash to find actors who are just brilliant at what they do and who are all open and enjoy being in scenes. Kat brings an extraordinary quality to role, and it's awesome that the person who's in most scenes with you, is actually on your wavelength."
"I don't think they even knew I could sing or dance before I tried out," the British actor shared.  "I had been cast by Bernie (Tesley) and Tiffany (Little Canfield) in "Sex and the City 2" and they were the same people who cast Smash and I knew Debbie Zane (of Debra Zane Casting, who also worked on the casting of Smash). When I first met with the show the character was an American boy but it changed. As we talked about it and meetings progressed it changed and we decided to go with the British. There was a worry for a moment that it would be too Brit for the show with Jack (Davenport) and I, but it's very New York and very Broadway to have that kind of mix of people from all over the world."
Smash airs on NBC, Mondays at 10pm est.  Watch a clip of Raza Jaffrey in his role as Dev below.