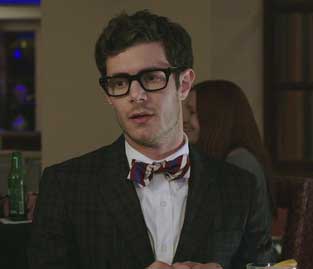 When The O.C. ended six years ago, many Hollywood insiders expected Adam Brody to become a big player in the entertainment industry. While the actor is certainly earning a nice living as a performer, he's doing it on his own terms.
The 33-year-old is taking on roles that may seem unexpected to many of his fans. Whether it's "the token white guy" in Baggage Claim or adult film star Harry Reems in Lovelace, Brody is following a road less travelled when it comes to guiding his career.
In a recent interview, he told the Los Angeles Times, "I have a say in my career to a certain point, but I can only play with the toys I'm given. My agent fishes and brings me the couple catches of the month. He errs on the side of 'let's do it' and I err on the side of 'let's not' and we meet in the middle."
This random quality to his career makes him seem more like a "journeyman" because of the twists and turns. You never know where Brody will go next.
He asserted, "I would trade having two scenes in an interesting story versus being the lead of a bland movie, any day."
However, he does see the drawbacks to constantly being the supporting character.
"But occasionally it is nice to be able to say at a film festival, 'No, let me field this question' and not feel like I'm tagging along. [With supporting roles] I feel like less of a part of it, in a way, and more like an observer who is a celebrity commentator on the movie itself," the former teen heartthrob revealed.
He also feels that his talent has some limitations. Whether it is fans wanting him to only play the nice guy or not believing enough in his own on-camera skills, Brody seems accepting of the career he does have.
"I don't think I'll ever be the actor I want to be or admire because I'm not eccentric," he said. "I know I have a couple great roles in me, but realistically speaking, there's a ceiling to my talent — and I don't mind."