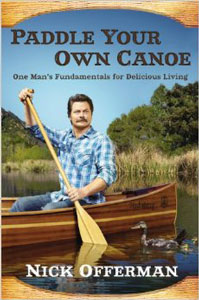 One of the funniest character actors working today is Parks and Recreation star Nick Offerman. Fans of his work will be able to enjoy more of his comedy beginning Oct. 1 when his hilarious memoir Paddle Your Own Canoe: One Man's Fundamentals for Delicious Living is released.
The 43-year-old comedian talked with USA Today about his NBC sitcom, his new book and how he approached the writing process.
On the hit sitcom, Offerman plays the deadpan Ron Swanson, the director of parks and recreation department in Pawnee, Indiana. His interaction with Amy Poehler's character, Leslie Knope, is the center of the show's comedy.
He talked about how easy it was for him to get into the Swanson character.
"Oh, nothing particularly illuminating. I don't eat a pound of bacon or drink a big glass of scotch. I spend some time in the makeup chair and it actually takes quite a while from the very talented Helena to fashion my coif edifice we call the full deuce," Offerman joked. "Other than that, the writing on the show is so good that all I have to do is learn my lines."
In addition to Offerman's book, his castmates are also writing their own tomes. Poehler and Aziz Ansari have upcoming memoirs. They have even shared thoughts on the writing process.
He said, "We have talked about it. It's interesting — we're all first-time authors, as it were. Amy's much farther ahead in her process, she's actually writing her book and Aziz just made his deal."
Even with their long history with writing comedy, this is definitely new territory for the trio.
"But it's interesting — it's a whole new genre. We're all experienced at entertaining people either with our visual physical work, or with our voices, but to simply rely on words on paper — Amy and I have both written a lot of different things, she's written TV scripts and film scripts, and I've written pieces for magazines and some script work," Offerman explained. "But we're leaping over into a new arena here and I think all three of us are finding it really surreal. Of the things we've written, this will be the first to reside on the shelf at the library, if we play our cards right."
Even with jumping into a new genre, the whole experience was an enjoyable one for the NBC star.
"The writing process was more enjoyable and relaxed. Writing 1,000 or 1,500 words for a magazine is like turning in a paper in the middle of the fall semester. It's not a lot of high pressure, and generally it's comedy based, so I just sit down and have a lot of fun with whatever the topic of the day is. Writing a book felt much more like my thesis," revealed Offerman.
Parks and Recreation returned to the airwaves for Season 6 on Sept. 26.