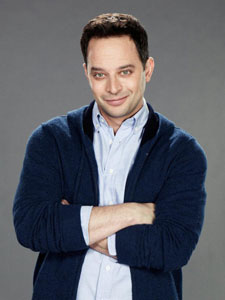 Comedian Nick Kroll is living the dream.  With his own Comedy Central series, Kroll Show, and his role on FX's The League, Kroll is quick to acknowledge how lucky he is.
"I think my goal was just to do comedy, honestly.  It still is.  Whatever form that took or takes, it doesn't matter," he said in an interview with The Huffington Post.  "Whether it was sketch or stand up back then or doing video or TV or movie or even a bit on another show today—whatever it is—it just comes down to doing comedy.  Really, I just love doing comedy.  Any form it takes is great, as long as I can keep doing it, you know?  If I can do my show and The League while also getting to do other bits, that's awesome.  I think my friends would agree.  I'd say 90 or nearly 100 percent of the people I know would do it for free.  I just really love comedy.  We all do."
Kroll is enjoying getting to work on two different types of programs.  "The similarities are that there is room for organic material in both," he said.  "Obviously, The League is done in outline form.  We get a 12-page outline—which is always tight—but we have room for improvisation and finding organic moments.  There's an element of that to Kroll Show."
These chances for improvisation are one of the things that drew Kroll to both projects, specifically Kroll Show, where he's gotten the opportunity to work with some of his comedy friends.  Jenny Slate, a former cast member of Saturday Night Live, has also appeared on the show.  But the process of working improvisational moments into a script can sometimes be a little difficult.  "Sometimes something will come out of an improvised moment that is funny but not exactly right, so then you have to edit it," he said.  "But then there's a bit like one in the pilot where Jenny and I are in a fight.  I call her ridiculous.  She says something like, 'Don't call me ridiculous.  You know that's my pet peeve.  My dad always called me ridiculous.'  That was improvised, but I think we kept it.  So with an example like that, she does it, it works and we keep adding to it.  We added stuff about her not liking being called ridiculous.  We're always trying to find those moments."
That's not to say that the script for each episode isn't crucial to the formation of the show.
"We script everything very tightly," Kroll said.  "My friends, we all improvise together usually.  So we write what I think is a good script but always leaves a lot of room to find stuff on the day; we always do find something.  That's the advantage of having actors who are in their own right writers."
Kroll Show airs on Comedy Central, Wednesdays at 10:30 p.m., and the fifth season of The League will premiere later this year.