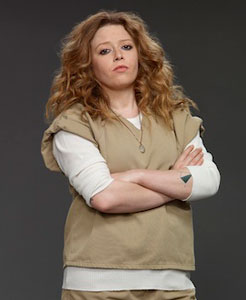 With the recent premiere of Orange is the New Black on Netflix, fans of the show have taken to social media to praise the series. Natasha Lyonne spoke to Interview magazine recently about her role as Nicky Nichols and what it's like to work under Netflix's new studio system where all of the episodes are released at the same time.
Lyonne's character in the show is incarcerated for a drug violation. While this is mentioned in passing at the beginning of the series, the actress delves into what viewers will see in later episodes.
She shared, "As the season develops, we really get to know all of the characters and how they come by their tough-guy exteriors. It's almost like when you meet somebody, you just know this superficial layer of them. You can gather a lot from your first impression of a person, but the deepening experience of really getting to know someone is sort of the whole magic of relationships in this life. It's interesting to have that with a character."
The former child star has focused mainly on film in her acting career, so working on a series has opened her eyes to the creative possibilities.
Lyonne told Interview, "I've never done a TV show before; I've only done a couple episodes here and there of Will and Grace and New Girl, and I guess Pee Wee's Playhouse, but I probably wasn't thinking so hard at that time about, "Where does Opal really come from? What's really in her heart? How did she get to this playhouse?" [laughs] Which maybe speaks volumes for the wisdom of children, but certainly as an adult it's satisfying—you're along for the ride of finding out how a person gets to be the way they are."
With Netflix's new approach in how an audience watches a show, the 34-year-old star talked about how it changed up her acting method on set.
"[Filming] you sort of fall into the very specific world of these characters because it's over this six-month intensive period. You're going to work every day in a jail cell or a defunct psychiatric institution in Rockland over a freezing winter," revealed Lyonne. "It's similar to theater over the winter; a month into the run you've forgotten that you're acting and you're just showing up, existing. That's when it really gets exciting."
She continued, "It's very different than doing an independent movie—especially these days they make so many of those over a 20-day shooting schedule. It can turn out great, but you're running off adrenaline. You don't get the opportunity to get into the belly of the beast as much."
Season 1 of Orange Is the New Black premiered on July 11. It is available via Netflix.