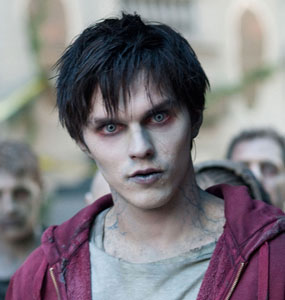 Nicholas Hoult might need to rethink how much of a celebrity he is.  After starring in Warm Bodies, the actor is probably not going to stay under the radar for much longer.
"I don't think anyone knows who I am, so I'm not too worried about [over-exposure] at the moment," he said to Interview.  "There's something to say for not working for the sake of it, and trying to do things that you want to see.  I guess as people get more fans, then they have to be more respectful to the fact that people are going to see the films, and that they're giving the fans a good show for their money.  But no, should I be worried?"
By all accounts, yes.  Hoult first jumped onto the scene 11 years ago as the youngster in About a Boy.  But with a slew of high-profile roles like Mad Max and Jack the Giant Slayer coming up, the actor is most likely going to lose his anonymity quickly.  That's not to say he hasn't enjoyed the route his career has taken up to this point.
"So far I've been fortunate to be able to do quite an eclectic mix of things, and have worked with good people.  I'm enjoying it," Hoult admitted.  "I really like to mix it up.  There's nothing better than doing big action-y stuff, like Mad Max and Jack the Giant Slayer.  It's like you're a big kid.  You run around on set and you get to do stuff that you did in the garden when you were five years old.  I enjoy doing the smaller, more personal works as well, the character-driven stuff."
Hoult found one of these types of projects with his role as the zombie, R., in Warm Bodies.  To prepare for the role, the actor read the book the film was based on.  "The book really goes into more of the detail of his feelings and his thoughts, and it got me into a good headspace," he said.  "The script kind of had everything that we needed in it.  It was really well adapted by Jonathan [Levine, the writer and director], but the book was kind of little bit of something else to have in you as far as having knowledge going into it.  It helped with the internal feelings, and feeling trapped, wanting to connect with everything around you, and feeling lost.  Also, it was knowing that there was something more in life."
One of the biggest challenges to playing a zombie was wearing the contacts throughout filming.  "Deciding not to blink, I guess it was one of those things where we were like, 'Yeah, zombies don't really blink, right?  Why would they do that?' Hoult said.  "So the contacts actually helped with that.  Being behind lenses it did kind of make me feel like I was stuck in my own head a bit."
Warm Bodies is in theaters now.