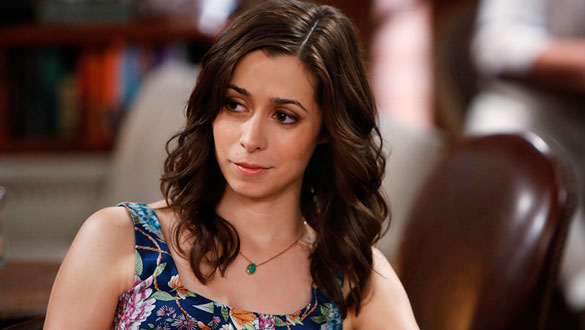 Cristin Milioti might be the envy of every young actress in the entertainment industry right now. Her body of work in the last few years includes a  part in The Wolf of Wall Street, a role on 30 Rock, a turn on Broadway in Once and now the elusive mother in CBS' How I Met Your Mother.
In a recent episode of the sitcom, Milioti talked about playing the song "La Vie On Rose" on the ukulele and how that came about.
"They [the producers]knew that I played ukulele from seeing a video online that I did for the New York Times, where I played this old Irish folk song. So, early in the season, they were like, 'You know how to play "La Vie En Rose"?' And I was like, 'Nope.' And so I practiced it, even though I wasn't sure if we were going to use it, and thank God I did. Because then they came to me and were like, 'Hey, you're going to play "La Vie En Rose" next week.' And I was like, 'Great. I happen to know it,'" she shared.
Besides showing off her musical talents on the show, the 28-year-old actress is stepping into a role that's been mythologized for years on the series. Milioti revealed that it wasn't easy to jump into the role.
"Oh, Lord yes. I was so nervous. It didn't hit me until I finished the eighth season and actually watched the episode where I buy the train ticket and I was like, 'Oh, oh, this is so much bigger than I had realized,'" she said. "But I also feel like I was sort of guarded from all that because I'm not on any social media whatsoever. I'm only on Instagram, and it's under a ridiculous name and I'm friends with like five people. All of whom I've had dinner with."
In addition to her TV work, she's also a part of the Oscar-nominated film The Wolf of Wall Street as Leonardo DiCaprio's first wife. Even though she is left behind by DiCaprio's character, Jordan Belfort, Milioti explained that the film had a different ending that what audiences saw in the theaters.
"Well, I don't know if I'm allowed to say this — there used to be a different ending. I shot a lot of the stuff in the very beginning and I remember the ending had something to do with me coming back. Like, you never saw me, but it was about making it right for that character," she continued. "And I'm only feeling weird saying that because I think that's what happened and now I'm like, 'Wait, did I just imagine a scene where they were going to indict me' and he was like, 'No, I can't wrong her twice.' That script went through so many changes that I don't remember. But, no, I probably would have been cool with taping some money to my body. I don't really ever play those roles."
One quirky role she did play was Abby Flynn on 30 Rock who had that distinctive baby voice. Milioti had a specific person in mind when the voice came about.
She said, "I just went in with that voice. Though I certainly didn't know what the costume was going to be like or what the wig was going to be like. I actually am wearing Will Forte's wig in that episode from when he's Jenna's fiancé. That voice came from watching Paris Hilton on Letterman. She talks in that voice. It's like her and Kim Kardashian, where you're like, 'Wait, no, seriously, what is your voice?'"
Milioti can also be seen in the recently released VOD horror movie, The Occupants.
Via Vulture