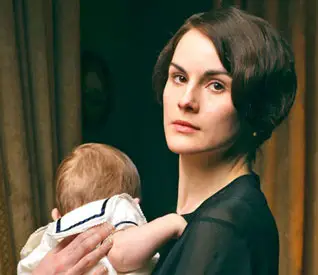 When we last saw Downton Abbey's Mary Crawley, she was sitting blissfully with her newborn son while her beloved Matthew was lying dead on the ground, the victim of a car accident. Michelle Dockery, who plays Mary Crawley, explains that actor Dan Stevens' exit was expected.
"I knew quite early on, before we started series three.  Everyone knew when we started series three that he wasn't coming back," she said in an interview with Vulture.  "We didn't really know where the story line was going, but we were all predicting it would be finite."
Dockery admitted that no one really tried to convince Stevens to stay.  "The thing is, we all had that choice, and any one of us could have left.  There was a point where I thought, 'Yeah, I'm done after three,' because that's what I was expecting to happen: I would do three series and that would be it," she explained.  "And then of course the success of the show was huge and I had my doubts.  I discovered there isn't any rush.  I wasn't ready to finish whereas Dan was very ready to leave.  But Dan has done some great work in the space of time since he's left.  He's already got three films he's doing, so for him it was the right decision.
"It just feels like the show gets better every year, though.  I mean, we'll see.  If more people start leaving, that's when it can't go on.  Like if Maggie Smith decided not to do it anymore, I think that really is the end.  One of the great things about the show is the ensemble: It's as much about Edith and Mary as it is about Daisy and Ivy.  So if more people start dropping off, I just don't think it will work."
Despite wondering if her other costars will stay with the series, Dockery has also had an additional challenge on set this season—acting with a baby.
"It's tricky, because you can only use them for a certain time.  We've got twins.  When they're below a certain age, you've got to swap them out," she said.  "When one starts crying, you're like, 'Next!'  It's sort of a happy coincidence, really, that their parent in the show is an aristocrat.  Mary wouldn't really have spent that much time with the baby.  There's a nanny.  Mary's not the most maternal of women in the show.  That's another big adjustment."
The next season of Downton Abbey will air in the US starting on January 5, 2014.