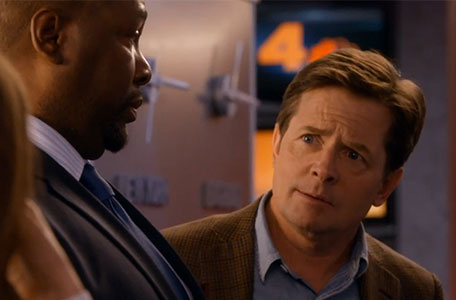 Many were surprised when it was announced that Michael J. Fox would return to television in the NBC series The Michael J. Fox Show.  After all, after Fox was diagnosed with Parkinson's disease over a decade ago he has limited his performances to voiceover work and short guest-starring stints on shows like Scrubs, Rescue Me, and Curb Your Enthusiasm.  However, as he tells The New York Daily News, Fox has reached a point in his life that he feels comfortable returning to the demands of television.
On why he would choose to star in a regular series again after leaving the sitcom Spin City in 2000 because of his Parkinson's disease, Fox says, "I figured I'd either atrophy or rebuild muscle.  I'm feeling more comfortable with the schedule every day."
While Parkinson's does come up in the new show, Fox stresses that it will not be the focus of the show moving forward.  He explains, "The pilot deals more with Parkinson's.  That gets less as it goes on. We didn't craft a message. We had a story we wanted to tell and we did it."  In fact, in an example of life imitating art, Fox's character Mike Henry is a former NBC anchorman whose Parkinson's disease caused him to leave his job and only returns to work when his constant presence at home annoys his family.
Fox admits that he can't keep the schedule that he used to have, like when he shot Family Ties by day and the original Back to the Future at night.  However, he doesn't blame that all on his disease.  He admits, "But that's partly because I'm 52. My wife is always telling me, 'That's age, not the disease.'"
Nonetheless, as charming and optimistic as ever, Fox is quick to point out, "This is what I was born and bred to do."