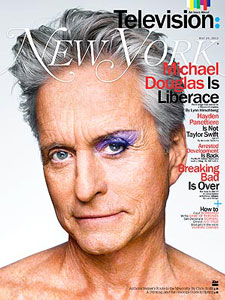 It's been a while since Michael Douglas really had a role he could get into.  With Behind the Candelabra, in which he portrays Liberace, Douglas might have his best role in over a dozen years.  He gave a lengthy interview to New York magazine about the HBO film about what was so different about playing such a campy real-life individual and what it was like acting opposite Matt Damon, who portrays Liberace's young lover Scott Thorson.
Playing the flamboyant Liberace exposed Douglas to a new aspect of acting that his wife Catherine Zeta-Jones is far more familiar with — sitting in the makeup chair and then hours of costuming.  Douglas explains, "I was the girl on this movie! The hair and makeup for Liberace took two and a half hours.  I've never done elaborate hair and makeup before. Up until now, my entire career has been contemporary."
Another first for Douglas was doing an on-screen kiss with another man.  However, he confesses that only the first kiss was difficult.  He reveals, "Once you get that first kiss in, you are comfortable.  Matt and I didn't rehearse the love scenes. We said, 'Well—we've read the script, haven't we?'  The hardest thing about sex scenes is that everybody is a judge. I don't know the last time you murdered somebody or blew anyone's brains out, but everyone has had sex and probably this morning, which means everyone has an opinion on how it should be done."
While Douglas might feel hesitant about himself, he has nothing but praise for Damon.  He points out, "When Soderbergh said that Matt wanted to play Scott, I was impressed.  In the prime of my career, I don't think I'd be choosing to play Scott. I mean, he has to wear a white sequined thong! That takes real guts."
Director Steven Soderbergh had wanted to make a film about Liberace starring Douglas ever since they worked together on Traffic a dozen years ago.  Douglas explains, "I was cast in Traffic as a government drug-enforcement czar in a gray suit and tie.  And Steven came up to me and wanted to know if I ever thought about playing Liberace.  I thought he was playing a game with me—like it was some mind-fuck trick to get me into the character. But I played along—I imitated Lee's [as Liberace was known] voice briefly for him, and we went on with making Traffic."
Though Douglas has a career that most actors would envy, he admits that he often feels like he is sometimes not taken seriously because of his famous pedigree.  He explains, "I do feel I get dismissed sometimes.  It may be a second-generation-­Hollywood thing—my father [Kirk Douglas] was known for tough-guy parts, and I probably gravitated toward the cerebral rather than the physical to be different from him."
While father and son Douglas have had very different careers, there's no denying that both are held in high esteem — and audiences will see more of that in Behind the Candelabra, which airs later this month.