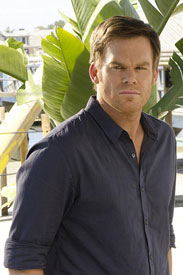 Michael C. Hall has had a prolific television career with two back-to-back series, Six Feet Under and Dexter. With the  Dexter series finale coming up on Sept. 22, Hall looks back on the two shows that have defined his career thus far.
In an interview with Indiewire at the Toronto Film Festival where he was promoting his upcoming film Kill Your Darlings, Hall discussed his decision to do the serial killer show so soon after Six Feet Under concluded.
He said, "I think I announced in interviews like this when Six Feet Under was ending, 'I will never do another television series.' I've learned to never say never."
"Yeah, I moved back to New York and was hoping to pursue opportunities on stage and hopefully in film. But I was coming to appreciate that while people loved Six Feet Under, in the industry their imaginations began and ended with David Fisher when it came to me. I was very proud of the work, but I felt somewhat bound by that. When the Dexter script came along, it fell into my lap because Bob Greenblatt had been a producer on Six Feet Under and was the new head of original programming and Michael Cuesta was directing the pilot and he'd done several Six Feet Under episodes," continued the Showtime star.
The 180-degree turn he took with his characters from the two series also threw some fans for a loop. David Fisher in the HBO show was considered one of the first realistic portrayals of a gay man on television. Taking on the much darker Dexter role took some transitioning for his fans.
"I probably will deal with that from Dexter fans now. Occupational hazard, I guess. But I realized it was, like David Fisher, a character unlike I had ever encountered, and an opportunity to stretch my own muscles and broadened the spectrum in terms of people's perception. So I took the leap, and I did it for eight seasons," said the 42-year-old actor. "I felt like if we got the tone right we would develop some sort of cult audience and do it for three or four seasons. The fact that we did it for eight, and it became this sort of worldwide thing, was beyond my wildest expectations or dreams."
The one thing that is different for Hall is how he feels as an actor the second time around a big chapter of his life is ending.
He revealed, "I definitely feel like I have a bit more substantial footing at this point after eight seasons of Dexter that I did after five seasons of Six Feet Under. But once again, it's time to reboot the system, and I try to think of it as a new beginning as much as an ending. It definitely is, and I'll never say never, but I'm excited about the opportunity to have jobs that have a definite beginning, middle and end when I go into them rather than an open-ended commitment to a character that could be taken in places I can't even imagine. But it's funny, be careful what you wish for, be careful for what you avoid. You'll find yourself right back there."
Hall does believe his experiences in the two series have given him more material to work with as an actor.
"I think part of what I like about acting is that, certainly you accumulate more tools over the years and you have more tools in your toolbox. But hopefully different roles and different worlds in which those roles exist call upon you to fashion new tools. This was unique in that it was a world populated by characters who were all future icons, and this footnote in Beat history that was sort of off in the shadows. But I was able to find enough information about him to make informed decisions as I filled in the blanks, and that was a unique position to be in."
Kill Your Darlings opens nationwide on Oct. 17.